Ditemukan 141 dokumen yang sesuai dengan query
Chong, Edwin K.P, author
New Jersey: Wiley, 2001
519.6 CHO o
Buku Teks Universitas Indonesia Library
Pike, Ralph W., 1935-, author
New York : Van Nostrand Reinhold, 1986
620 PIK o (1)
Buku Teks Universitas Indonesia Library
Alis Suryani, author
Algoritma Harmony Search merupakan algoritma metaheuristik yang diperkenalkan oleh Zong Woo Geem pada tahun 2001 dan terinspirasi dari proses improvisasi musik, dimana para musisi berusaha untuk memperbaiki nada sehingga menghasilkan kumpulan nada membentuk harmoni terbaik. Dalam skripsi ini algoritma Harmony Search digunakan dalam penyelesaian permainan Sudoku. Permainan Sudoku merupakan suatu permainan...
Depok: Universitas Indonesia, 2014
S56813
UI - Skripsi (Membership) Universitas Indonesia Library
Schaffler, Stefan, author
This self-contained monograph presents a new stochastic approach to global optimization problems arising in a variety of disciplines including mathematics, operations research, engineering, and economics. The volume deals with constrained and unconstrained problems and puts a special emphasis on large scale problems. It also introduces a new unified concept for...
New York: [Springer, ], 2012
e20419659
eBooks Universitas Indonesia Library
The book contains an expanded version of three series of lectures delivered by the authors at the CRM in July 2009. The first part is a self-contained course on the general moment problem and its relations with semidefinite programming. The second part is dedicated to the problem of determination of...
Basel: Springer, 2012
e20420500
eBooks Universitas Indonesia Library
Kelley, C.T., author
This book presents a carefully selected group of methods for unconstrained and bound constrained optimization problems and analyzes them in depth both theoretically and algorithmically. It focuses on clarity in algorithmic description and analysis rather than generality, and while it provides pointers to the literature for the most general theoretical...
Philadelphia: Society for Industrial and Applied Mathematics, 1999
e20450656
eBooks Universitas Indonesia Library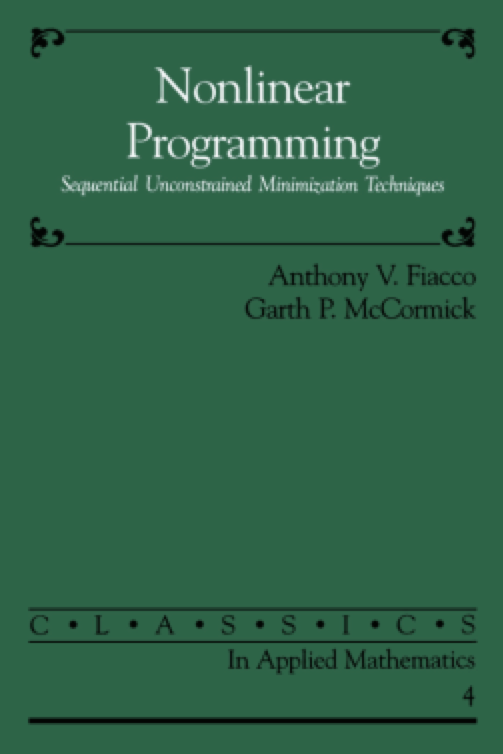 Fiacco, Anthony V., author
A reprint of the original volume, which won the Lanchester Prize awarded by the Operations Research Society of America for the best work of 1968. Although out of print for nearly 15 years, it remains one of the most referenced volumes in the field of mathematical programming. Recent interest in...
Philadelphia: Society for Industrial and Applied Mathematics, 1990
e20450812
eBooks Universitas Indonesia Library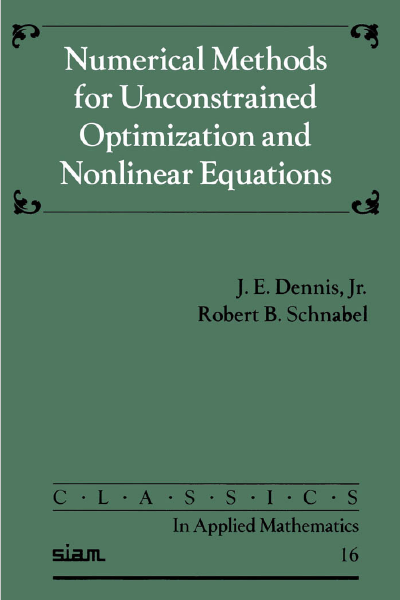 Dennis, J.E., author
This book has become the standard for a complete, state-of-the-art description of the methods for unconstrained optimization and systems of nonlinear equations. Originally published in 1983, it provides information needed to understand both the theory and the practice of these methods and provides pseudocode for the problems. The algorithms covered...
Philadelphia : Society for Industrial and Applied Mathematics, 1996
e20443158
eBooks Universitas Indonesia Library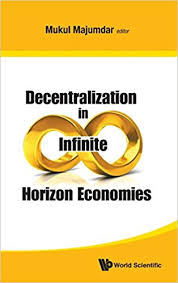 New Jersey : World Scientific, 2016
339.42 DEC
Buku Teks Universitas Indonesia Library
New York: Academic Press, 1975
332.018 4 STO
Buku Teks Universitas Indonesia Library