Ditemukan 101 dokumen yang sesuai dengan query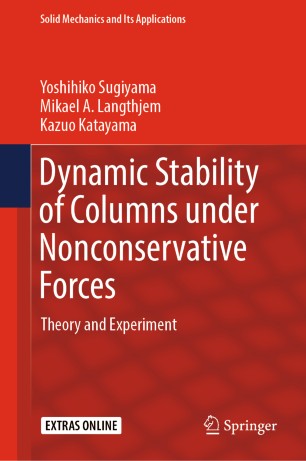 Sugiyama, Yoshihiko, author
This book treats dynamic stability of structures under nonconservative forces. It is not a mathematics-based, but rather a dynamics-phenomena-oriented monograph, written with a full experimental background. Starting with fundamentals on stability of columns under nonconservative forces, it then deals with the divergence of Eulers column under a dead (conservative)...
Switzerland: Springer Nature, 2019
e20507859
eBooks Universitas Indonesia Library
This book comprises the proceedings of the conference Faszination Hybrider Leichtbau 2018, which took place in Wolfsburg. The conference focused on new methods and technologies for the development and production of multifunctional and hybrid lightweight solutions in large-scale vehicle manufacturing. Further, it promoted the exchange of insights and lessons learned between...
Berlin: Springer Nature, 2019
e20509636
eBooks Universitas Indonesia Library
Frinantika Novira, author
PT BIRU yang menyediakan jasa konsultasi enjiniring di bidang minyak dan gas, diketahui sering mengalami keterlambatan waktu penyelesaian proyek terutama terkait proses DED (Detailed Engineering Design) sehingga menimbulkan kerugian bagi perusahaan. Oleh karena itu diperlukan analisis pemborosan pada proses DED dalam proyek EPC (Engineering, Procurement dan Construction) yang dijalankan perusahaan...
Depok: Fakultas Ekonomi dan Bisnis Universitas Indonesia, 2016
T-Pdf
UI - Tesis (Membership) Universitas Indonesia Library
This volume presents up-to-date material on the state of the art in evolutionary and deterministic methods for design, optimization and control with applications to industrial and societal problems from Europe, Asia, and America. EUROGEN 2015 was the 11th of a series of International Conferences devoted to bringing together specialists from universities,...
Switzerland: Springer Cham, 2019
e20501694
eBooks Universitas Indonesia Library
Liang, Yun, author
High performance marine vessels (HPMVs) range from the Fast Ferries to the latest high speed Navy Craft, including competition power boats and hydroplanes, hydrofoils, hovercraft, catamarans and other multi-hull craft. High Performance Marine Vessels covers the main concepts of HPMVs and discusses historical background, design features, services that have been...
New York: [, Springer], 2012
e20418488
eBooks Universitas Indonesia Library
Bevilacqua, Maurizio, author
Environmental design is becoming an increasingly significant agenda for many manufacturing companies and yet there is no standard to their approaches, strategies or their levels of execution. Applying design for environment (DfE) methodologies to develop a more sustainable supply chain has formed procedures and techniques which allow designers to integrate...
London: [Springer-Verlag, ], 2012
e20418667
eBooks Universitas Indonesia Library
Patrick Langdon, editor
The Cambridge Workshops on Universal Access and Assistive Technology (CWUAAT) are a series of workshops held at a Cambridge University College every two years. The workshop theme: "Designing inclusion for real-world applications" refers to the emerging potential and relevance of the latest generations of inclusive design thinking, tools, techniques, and...
London: [, Springer-Verlag ], 2012
e20418706
eBooks Universitas Indonesia Library
Buttazzo, Giuseppe, editor
This volume consists of papers presented at the Variational Analysis and Aerospace Engineering Workshop II held in Erice, Italy in September 2010 at the International School of Mathematics "Guido Stampacchia". The workshop provided a platform for aerospace engineers and mathematicians (from universities, research centers and industry) to discuss the advanced...
New York: [Springer, ], 2012
e20419489
eBooks Universitas Indonesia Library
This book presents selected extended papers from The First International Conference on Mechanical Engineering (INCOM2018), realized at the Jadavpur University, Kolkata, India. The papers focus on diverse areas of mechanical engineering and some innovative trends in mechanical engineering design, industrial practices and mechanical engineering education. Original, significant and visionary papers...
Switzerland: Springer Nature, 2019
e20505976
eBooks Universitas Indonesia Library
This book discusses the general concept and applications of rapid tooling technologies and introduces the use of incremental forming for the development of rapid sheet tools. Methods and techniques for tool design and development are discussed, considering their manufacture using incremental forming and complementary processes. The mechanical and thermal performance...
Switzerland: Springer Nature, 2019
e20508981
eBooks Universitas Indonesia Library