Ditemukan 24 dokumen yang sesuai dengan query
Singapore: Institute of Southeast Asian Studies, 2001
320.959 ASE (1)
Buku Teks Universitas Indonesia Library
Talbot, Ian, author
Noted historian Ian Talbot has written a new history of modern South Asia that considers the Indian Subcontinent in regional rather than in solely national terms. A leading expert on the Partition of 1947, Talbot focuses here on the combined history of India, Pakistan, and Bangladesh since 1757 and specifically...
New Haven: Yale University Press, 2016
945 TAL a
Buku Teks Universitas Indonesia Library
Hutagalung, Tulus Bangun, author
ABSTRAK
Walaupun sudah terbentuk kerjasama perdagangan bebas di Asia Selatan melalui mekanisme South Asian Preferential Trade (SAPTA) pada tahun 1995 dan South Asian Free Trade Agreement (SAFTA) pada tahun 2006, tetapi nyatanya persentase nilai ekspor intra-kawasannya terhadap total nilai ekspornya ke dunia masih sangat rendah, hanya berkisar 4-6%, dibanding dengan Uni Eropa yaitu 57- 65%, ASEAN...
2012
S-Pdf
UI - Skripsi (Open) Universitas Indonesia Library
Clarke, Ryan, author
London: Routledge, 2011
363.325 095 4 CLA c
Buku Teks Universitas Indonesia Library
Bose, Sugata, author
Drawing on the newest and most sophisticated historical research and scholarship in the field, this text provides a challenging insight for those with an intellectual curiosity about the region. After sketching the pre-modern history of the subcontinent, the text concentrates on the last three centuries...
London: Routledge, 2011
954 BOS m
Buku Teks Universitas Indonesia Library
Bangkok: The Nippon Foundation, 2009
337.15 NIP a
Buku Teks Universitas Indonesia Library
Agrawal, Mahesh Chandra, author
According to the author, the book addresses to all the scientists and not only to immunologists or biologists of European countries who are engaged in developing a vaccine, or a diagnostic kit or a new drug against the infection or on schistosome evolution. Even these scientists have to visit endemic...
New Delhi: [, Springer], 2012
e20418001
eBooks Universitas Indonesia Library
Singh, Deepak K., author
Los Angeles: New India Foundation, 2010
305.891 SIN s
Buku Teks Universitas Indonesia Library
Over recent decades a number of states in South and Southeast Asia have been troubled by armed separatist movements that have sought to create their own independent polity via physical separation from the parent state. Various forms of autonomy have been promoted by policy-makers and donors as the most democratic...
Singapore: Institute of South East Asia Studies, 2012
e20442349
eBooks Universitas Indonesia Library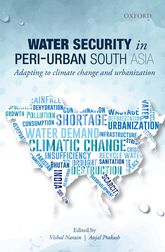 Narain, Vishal, author
This book explores the implications of urbanization and climate change for peri-urban water security in South Asia. Focusing on four locations in the region, namely Kathmandu (Nepal), Khulna (Bangladesh), and Hyderabad and Gurgaon (India), the book describes how climate change and urbanization shape peri-urban water security. The research documents the...
Oxford: Oxford University Press, 2016
e20470254
eBooks Universitas Indonesia Library