Ditemukan 83 dokumen yang sesuai dengan query
Rossi, Ugo, 1975-, author
Cambridge, UK Malden, MA: Polity Press, 2017
330.91 ROS c
Buku Teks Universitas Indonesia Library
Burnley, I. H., author
New York, N.Y.: McGraw-Hill, 1976
301.320 BUR s
Buku Teks Universitas Indonesia Library
Provides the foundations and principles needed for addressing the various challenges of developing smart cities Smart cities are emerging as a priority for research and development across the world. They open up significant opportunities in several areas, such as economic growth, health, wellness, energy efficiency, and transportation, to promote the...
Hoboken: John Wiley and Sons, 2017
597.48 SMA
Buku Teks Universitas Indonesia Library
Lauterbach, Richard E.
Buku yang berjudul "These are the Russians" ini ditulis oleh Richard E. Lauterbach. Buku ini berisikan tentang karakterisitik masyarakat Rusia. Selain itu di dalam buku tersebut juga dijelaskan mengenai penggambaran kota-kota dan situasi di Rusia...
New York: Harper & Brother Publishers, 1945
947 LAU t
Buku Teks Universitas Indonesia Library
Tri Tjahjono, author
Depok: Fakultas Teknik Universitas Indonesia, 1998
LP-pdf
UI - Laporan Penelitian Universitas Indonesia Library
This important Handbook reveals that most urban growth takes place in the less developed world and much of it represents over-urbanization...
Northampton: Edward Elgar, 2011
307.76 INT
Buku Teks Universitas Indonesia Library
Karp, David A., author
---
ABSTRACT
Symbolic interaction is among the most central theoretical paradigms in sociology and the theory that most thoroughly attends to how individuals give meaning to their world--in this case, how city dwellers interpret and respond to their daily experiences as urbanites. This thoroughly updated edition of "Being Urban: A Sociology of...

Santa Barbara: Praeger, 2015

307.76 KAR b

Buku Teks Universitas Indonesia Library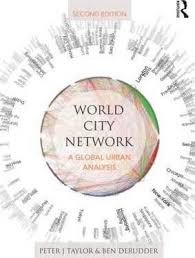 Taylor, Peter J., author
"With the advent of multinational corporations, the traditional urban service function has 'gone global.' In order to provide services to globalizing corporate clients, the offices of major financial and business service firms across the world have generated networks of work. It is the myriad of flows between office towers in...
London and New York: Routledge, Taylor & Francis Group, 2016
307.76 TAY w
Buku Teks Universitas Indonesia Library
Cham, Switzerland: Springer, 2018
307.121 6 SMA
Buku Teks Universitas Indonesia Library
Söderström, Ola, author
This book presents a new way of thinking about urban transformation by focusing on transnational relations in the least developed countries. It examines the last 20 years of urban development in Hanoi, Vietnam, and in Ouagadougou, Burkina Faso, and considers the ways in which a city's relationships with other places...
Chichester, West Sussex: Wiley Blackell, 2014
307.760 9 SOD c
Buku Teks Universitas Indonesia Library