Ditemukan 39 dokumen yang sesuai dengan query
This volume contains selected papers presented during the International Conference on Environmental Geotechnology, Recycled Waste Material and Sustainable Engineering (EGRWSE-2018). The multidisciplinary articles included in this volume cover the fields of environmental management, site characterization, environmental risk assessment, waste disposal, soil and groundwater remediation, habitat protection, and environmental rehabilitation....
Singapore: Springer Nature, 2019
e20508337
eBooks Universitas Indonesia Library
Since 2008, the Global Center of Excellence (COE) at Kyoto University, Japan, has been engaged in a program called "Energy Science in the Age of Global Warming—Toward a CO2 Zero-Emission Energy System." Its aim is to establish an international education and research platform to foster educators, researchers, and policy makers...
Tokyo: [, Springer], 2012
e20399065
eBooks Universitas Indonesia Library
This volume presents case studies and examples from various parts of the world and provides a broad overview of various approaches, data sets, data acquiring, monitoring and dissemination methods, satellites and sensors; tools and techniques used, integrating tools, techniques and application to various fields for the sustainable management of...
Dordrecht, Netherlands: Springer, 2011
e20405398
eBooks Universitas Indonesia Library
The primary objective of ASEAN Engineering Journal is to publish knowledge from academic research outcome in ASEAN countries. The additional objectives are to improve the research quality through review process and to develop the strong academic society and network...
Tokyo: ASEAN University Network/Southeast Asia Engineering Education Development Network ,
620 AEJ
Majalah, Jurnal, Buletin Universitas Indonesia Library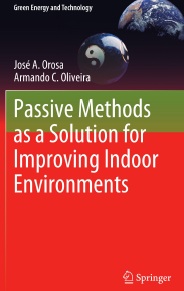 Orosa, Jose A., author
Passive methods as a solution for improving indoor environments includes both software simulations and laboratory and field studies. Through these, the main parameters that characterize the behavior of internal coverings are defined. Furthermore, a new procedure is explained in depth which can be used to identify the real expected...
London: [Springer, ], 2012
e20418766
eBooks Universitas Indonesia Library
Marta S. Basualdo, editor
PEM fuel cells with bio-ethanol processor systems presents a control system design that provides basic regulation of the hydrogen production process with PEM fuel cells. It then goes on to construct a fault diagnosis system to improve plant safety above this control structure. PEM fuel cells with bio-ethanol processor systems...
London: [, Springer], 2012
e20418191
eBooks Universitas Indonesia Library
Dincer, Ibrahim, author
This is a research-based textbook, in the area of sustainable energy systems and aimed to address some key pillars, better efficiency, better cost effectiveness, better use of energy resources, better environment, better energy security, and better sustainable development. It also includes some cutting-edge topics, such hydrogen and fuel cells, renewable,...
New York: Springer, 2011
e20418588
eBooks Universitas Indonesia Library
Bevilacqua, Maurizio, author
Environmental design is becoming an increasingly significant agenda for many manufacturing companies and yet there is no standard to their approaches, strategies or their levels of execution. Applying design for environment (DfE) methodologies to develop a more sustainable supply chain has formed procedures and techniques which allow designers to integrate...
London: [Springer-Verlag, ], 2012
e20418667
eBooks Universitas Indonesia Library
Kittler, Richard, author
Daylight science and daylighting technology, by Richard Kittler, Miroslav Kocifaj, and Stanislav Darula, sketches the entire evolution of daylight science from atmospheric science through apt visual workplace psychophysics...
New York: Springer, 2012
e20425384
eBooks Universitas Indonesia Library