Ditemukan 80 dokumen yang sesuai dengan query
Gabain, Alexander von, editor
Development of novel vaccines gives an overview of the tasks in basic research leading to the final product, the vaccine and its applications, belonging to the most complex biologics in the pharmaceutical field. The current issue focuses on the translational aspect, namely, how research results can be transformed into life-saving...
Wien: [, Springer], 2012
e20417998
eBooks Universitas Indonesia Library Bara Langi Tambing, author
1991
T-Pdf
UI - Tesis (Membership) Universitas Indonesia Library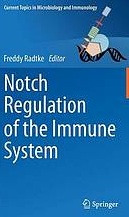 Freddy Radtke, editor
This special issue on Notch regulation of the immune system summarizes recent advances and covers multiple aspects of Notch signaling within the hematopoietic and the immune system. This issue covers subjects including Notch function in embryonic and adult hematopoietic stem cells, lymphocyte development and function as well as in...
Berlin: [, Springer-Verlag], 2012
e20417795
eBooks Universitas Indonesia Library
Dayan, Nava., editor
Topically applied products and medications can profoundly affect skin's barrier function and overall health. Bursting with suggestions to assist research and development, Innate Immune System of Skin and Oral Mucosa: Properties and Impact in Pharmaceutics, Cosmetics, and Personal Care Products provides a comprehensive overview on the innate immune system and...
Hoboken: John Wiley and Sons, 2011
e20394198
eBooks Universitas Indonesia Library
Gyorgy Berencsi III, editor
The human foetus is separated from the maternal blood by the syncytiotrophoblast induced by endogeneous human retrovirus-encoded proteins. This barrier is a highly developed one, which suppors apical-basolateral transport of maternal idiotype and anti-idiotype IgG, IgG-virus complexes. The selective maternal-fetal transport of epitope- and paratope-bearing entities can influence the developping...
Dordrecht: [Springer, ], 2012
e20410733
eBooks Universitas Indonesia Library
Peakman, Mark, author
Edinburgh: Churchill Livinstone, 2009
616.079 PEA b
Buku Teks Universitas Indonesia Library
Pamela A. Kozlowski, editor
This volume is focused on the development of vaccines which generate immune effectors capable of blocking mucosal entry or peripheral pathogen spread. Other chapters describe strategies for enhancing uptake of mucosal vaccines, for instance through targeted delivery to antigen-sampling M cells, construction of virus-like particles which mimic natural pathogens, addition...
Berlin: [Springer-Verlag, ], 2012
e20417807
eBooks Universitas Indonesia Library
John D. Lambris, editor
This volume compiles the latest advances in this rapidly evolving field as presented by eminent scientists at the 7th International Aegean Conference on Innate Immunity in Rhodes, Greece. It includes topics related to the biology and function of Toll-like and other pattern-recognition receptors, complement and its crosstalk with other physiological...
New York: [, Springer], 2012
e20417931
eBooks Universitas Indonesia Library
Andre Kamkin, editor
This book presents the latest findings in the field of investigation of molecular mechanisms of mechanical stretch and the role of cytokines in response of different tissues to it. On the one hand this volume demonstrates how mechanical stretch enhances cytokines production. It describes how cytokines influence tissues and cells...
Dordrecht: [, Springer], 2012
e20417939
eBooks Universitas Indonesia Library
Mark von Itzstein, editor
This volume describes all aspects of the virus structure and function relevant to infection. The focus is on drug discovery of inhibitors to the enzyme sialidase, which plays a key role in the infectious lifecycle of the virus. Following an overview of the influenza virus, the haemagglutinin, the interactions with...
Netherlands: [, Springer], 2012
e20417994
eBooks Universitas Indonesia Library