Ditemukan 56 dokumen yang sesuai dengan query
Rivoli, Pietra, author
New Jersey: John Wiley & Sons, 2005
382.456 8 RIV t
Buku Teks Universitas Indonesia Library
This edited volume contains a comprehensive discussion. . .by many of the key contributors to the trade policy literature. The discussion is largely forward thinking, building on achievements that have persisted and survived the turbulence and much more primitive system of rules that have existed so far in the global...
New York: Oxford University Press, 2012
382.3 OXF
Buku Teks Universitas Indonesia Library
Rickards, James, author
Here James Rickards explores the future of the international monetary system. In the last hundred years, the international financial system, the foundation for all global transactions, has collapsed three times - and it seems history is doomed to repeat itself. Rickards argues that 'money' and 'wealth' are very different things...
London: Portfolio Penguin, 2015
332.4 RIC d
Buku Teks Universitas Indonesia Library
Menlo Park, California: Stanford Research Institue, 1960
338.91 INT c
Buku Teks Universitas Indonesia Library
Singapore: Konrad-Adenauer-Stiftung, 2011
337.1 GRO
Buku Teks Universitas Indonesia Library
Inotai, András.
Budapest: Akadémiai Kiadó, 1986
337.1 INO r
Buku Teks Universitas Indonesia Library
"ASEAN is coming of age as an international actor and international treaty-maker. To date, more than 200 external agreements and other instruments have been concluded in the name of ASEAN. This book provides the first systematic account of the legal framework governing ASEAN's burgeoning external relations practice. It focuses in...
Cambridge, UK: Cambrigde University Press , 2015
382.915 ASE
Buku Teks Universitas Indonesia Library
Nguitragool, Paruedee, author
"ASEAN as an Actor in International Fora addresses a blind spot in ASEAN research and in comparative regionalism studies by assessing why, how, when and to what extent ASEAN member governments achieve a collective presence in global forums. Written for academic researchers and practitioners working in areas such as international...
Cambridge, UK: Cambridge University Press, 2015
337.15 NGU a
Buku Teks Universitas Indonesia Library
Oatley, Thomas, author
Offering a broad view of the global economy as a political competition that produces winners and losers, International Political Economy holistically and accessibly introduces the field of IPE to students with limited background in political theory, history, and economics. This text surveys major interests and institutions and examines how state...
Boston: Pearson, 2012
337 OAT i
Buku Teks Universitas Indonesia Library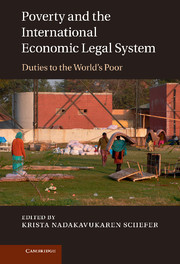 Krista Nadakavukaren Schefer, author
With a focus on how trade, foreign investment, commercial arbitration and financial regulation rules affect impoverished individuals, Poverty and the International Economic Legal System examines the relationship between the legal rules of the international economic law system and states' obligations to reduce poverty. The contributors include leading practitioners, practice-oriented scholars...
United States: Cambridge University Press, 2013
e20528250
eBooks Universitas Indonesia Library