Ditemukan 30 dokumen yang sesuai dengan query
This book provides readers with an up-to-date account of the use of machine learning frameworks, methodologies, algorithms and techniques in the context of computer-aided design (CAD) for very-large-scale integrated circuits (VLSI). Coverage includes the various machine learning methods used in lithography, physical design, yield prediction, post-silicon performance analysis, reliability and...
Switzerland: Springer Nature, 2019
e20509194
eBooks Universitas Indonesia Library Brown, Stephen D.
Dubuque, IA: McGraw-Hill , 2009
621BROF001
Multimedia Universitas Indonesia Library
This open access book presents theoretical framework and sample applications of variant construction. The first part includes the components variant logic, variant measurements, and variant maps, while the second part covers sample applications such as variation with functions, variant stream ciphers, quantum interference, classical/quantum random sequences, whole DNA sequences, and...
Singapore: Springer Nature, 2019
e20509491
eBooks Universitas Indonesia Library
This book covers the history and recent developments of stochastic computing. Stochastic computing (SC) was first introduced in the 1960s for logic circuit design, but its origin can be traced back to von Neumanns work on probabilistic logic. In SC, real numbers are encoded by random binary bit streams, and...
Switzerland: Springer Nature, 2019
e20509735
eBooks Universitas Indonesia Library
Sharma, Rohit, author
Compact models and measurement techniques for high-speed interconnects provides detailed analysis of issues related to high-speed interconnects from the perspective of modeling approaches and measurement techniques. Particular focus is laid on the unified approach (variational method combined with the transverse transmission line technique) to develop efficient compact models for planar...
New York: [, Springer], 2012
e20418395
eBooks Universitas Indonesia Library
Schwaderer, W. David, author
This book introduces Open Core Protocol (OCP) not as a conventional hardware communications protocol but as a meta-protocol: a means for describing and capturing the communications requirements of an IP core, and mapping them to a specific set of signals with known semantics. Readers will learn the capabilities of...
New York : Springer, 2012
e20425847
eBooks Universitas Indonesia Library
This book describes the state-of-the art of industrial and academic research in the architectural design of heterogeneous, multi/many-core processors. The authors describe methods and tools to enable next-generation embedded and high-performance heterogeneous processors to confront cost-effectively the inevitable variations by providing Dependable-Performance: correct functionality and timing guarantees throughout the expected...
Switzerland: Springer Nature, 2019
e20508941
eBooks Universitas Indonesia Library
This book constitutes revised selected papers of the 7th International Workshop on Formal Aspects of Component Software, FACS 2010, held in Guimarães, Portugal, in October 2010. The 13 full papers and 4 short papers presented together with 1 panel discussion and 2 invited talks were carefully reviewed and selected from...
Berlin: Springer-Verlag, 2012
e20408664
eBooks Universitas Indonesia Library
Roosita, author
Dalam tugas akhir ini akan dibahas tentang alat penyimpanan informasi pada mesin digital, yaitu Magnetic core memory, Flip-flop, Register yang merupakan rangkaian dari Flip-flop. Flip-flop dirangkaikan dengan gerbang-gerbang logika membentuk diagram logika. untuk penghematan tempat, diagram di minimisasi dengan metoda Peta Karnough dan metoda Quine McClunskey. Dalam minimisasi...
Depok: Fakultas Matematika dan Ilmu Pengetahuan Alam Universitas Indonesia, 1987
S-pdf
UI - Skripsi (Membership) Universitas Indonesia Library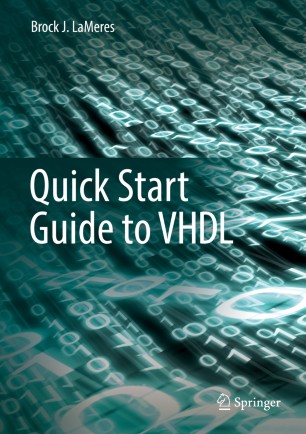 LaMeres, Brock J., author
This textbook provides a starters guide to VHDL. This book can be used in conjunction with a one-semester course in Digital Systems Design or on its own for designers who only need an introduction to the language. This book is designed to provide a bottoms-up approach to learning the VHDL...
Switzerland: Springer Nature, 2019
e20509910
eBooks Universitas Indonesia Library