Ditemukan 94 dokumen yang sesuai dengan query
Morley, Deborah, author
Singapore : Course Technology Cengage Learning, 2013
005.1 MOR u
Buku Teks Universitas Indonesia Library
The volume contains 6 research papers, which have been carefully reviewed and selected from 12 submissions, plus the 3 keynotes presented at the workshop. The topics cover all stages of the business intelligence cycle, including capturing of real-time data, handling of temporal or uncertain data, performance issues, event management, and...
Berlin: Springer-Verlag, 2012
e20409276
eBooks Universitas Indonesia Library Ringgy Masuin, author
Integrated management system is a necessity, where every company must be able to carry out a quality management system, safety management, occupational health and the environment simultaneously. This situation will certainly complicate the construction company in its implementation. Most of the integrated management system research is done not in construction...
Depok: Universitas Indonesia, 2019
D2773
UI - Disertasi (Membership) Universitas Indonesia Library

[This book originated from several recent workshops and related activities conducted by the IFIP Working Group 7.6 on "Optimization-based computer aided modeling and design." This group has been active for 20 years with the stated objective of developing "high-performance computer-aided systems to support modeling, decision analysis, optimization and multi-criteria decision...
Berlin: [Springer, ], 2012
e20397147
eBooks Universitas Indonesia Library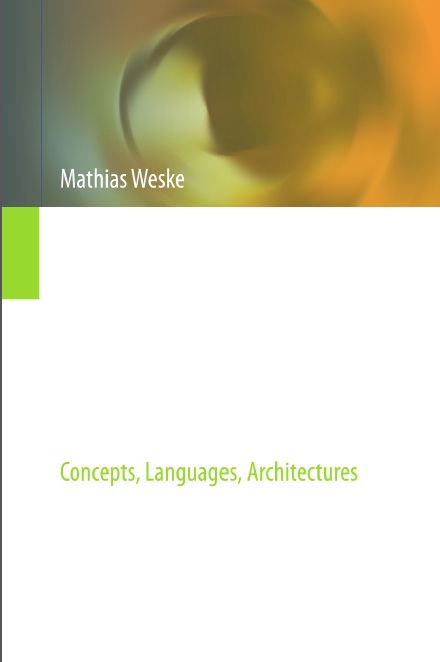 Weske, Mathias, author
Matthias Weske argues that all communities involved need to have a common understanding of the different aspects of business process management. To this end, he details the complete business process lifecycle from the modeling phase to process enactment and improvement, taking into account all different stakeholders involved. After starting with...
Berlin: [, Springer-Verlag], 2012
e20409422
eBooks Universitas Indonesia Library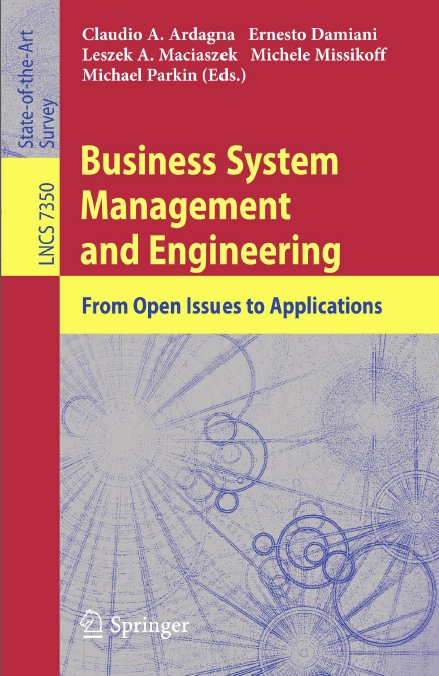 Claudio A. Ardagna, editor
This book is an outcome of the International Workshop on Business System Management and Engineering (BSME 2010), held in Malaga, Spain, in June/July 2010, in conjunction with the TOOLS 2010 federated conferences and under the aegis of the EU Network of Excellence on Service Software and Systems (S-Cube). The goal...
Berlin: [, Springer-Verlag], 2012
e20410083
eBooks Universitas Indonesia Library
Fernandez, Juan F. Gomez, author
Maintenance management information systems are essential to ensure control, gain knowledge and improve-decision making in companies dealing with network infrastructure, such as distribution of gas, water, electricity and telecommunications. Divided into three major sections, maintenance management in network utilities defines a series of stages which can be followed to...
London: [Springer-Verlag, ], 2012
e20418818
eBooks Universitas Indonesia Library
Snedaker, Susan, author
Powerful earthquake triggers tsunami in Pacific. Hurricane Isaac makes landfall in the Gulf Coast. Wildfires burn hundreds of houses and businesses in Colorado. Tornado touches down in Missouri. These headlines not only have caught the attention of people around the world, they have had a significant effect on IT professionals...
Waltham, MA: Syngress, 2014
e20426840
eBooks Universitas Indonesia Library
This book gathers the proceedings of the I-ESA 18 Conference, which was organised by the Fraunhofer IPK, on behalf of the European Virtual Laboratory for Enterprise Interoperability (INTEROP-VLab) and the DFI, and was held in Berlin, Germany in March 2018. It presents contributions ranging from academic research and case studies,...
Switzerland: Springer Nature, 2019
e20508307
eBooks Universitas Indonesia Library
The 15 full and four short papers accepted for EC-Web, selected from 45 submissions, were carefully reviewed based on their originality, quality, relevance, and presentation. They are organized into topical sections on recommender systems, security and trust, mining and semantic services, negotiation, and agents and business services...
Berlin: Springer-Verlag, 2012
e20410078
eBooks Universitas Indonesia Library