Ditemukan 205 dokumen yang sesuai dengan query
Rouillon, Frederic, author
Ce livre, qui réunit les contributions des meilleurs psychiatres français, se propose de faire un état des lieux de la psychiatrie en France et de proposer des pistes de développement pour cette discipline. Il aborde autant les questions institutionnelles (politiques de santé publique, formation, etc.) que les problématiques de recherche....
Paris: [, Springer], 2012
e20410713
eBooks Universitas Indonesia Library
Bratina, Michele P., 1972-, author
Forensic Mental Health : Framing Integrated Solutions describes a criminal justice-mental health nexus that touches every population--juvenile and adult male and female offenders, probationers and parolees, the aging adult prison population, and victims of crime. In the US today, the criminal justice system functions as a mental health provider, but...
New York : Routledge, Taylor & Francis Group, 2017
614.15 BRA f
Buku Teks Universitas Indonesia Library
Now in its fifth edition, this seminal textbook for occupational therapy students and practitioners working in the field of mental health, has retained the comprehensive detail of previous editions with significant updates, including the recovery approach informed by a social perspective...
Edinburgh, Scotland: Churchill Livingstone/​Elsevier, 2015
616.891 6 CRE
Buku Teks Universitas Indonesia Library
Mechanic, David, 1936-, author
Boston: Pearson, 2014
362.19 MEC m
Buku Teks Universitas Indonesia Library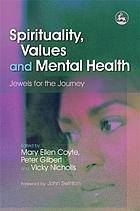 Summary: This book gathers together contributions from mental health professionals, carers and mental health service users and survivors. It addresses the stigma that can surround both mental health and spirituality and explores the spiritual in mental health care, teasing out its implications for research, education, training and good practic...
London: Philadelphia Jessica Kingsley Publishers, 2014
362.2 SPI
Buku Teks Universitas Indonesia Library
London: HMSO , 1993
362.2 PRO
Buku Teks Universitas Indonesia Library
Humphries, Judith
London: Kogan Page, 1994
610.69 HUM c
Buku Teks Universitas Indonesia Library
Bolen, Jean Shinoda
New York: Scribner , 1996
616.001 BOL c
Buku Teks Universitas Indonesia Library
Baltimore : Williams & Wilkins , 1996
362.2 OUT
Buku Teks Universitas Indonesia Library Phares, Vicky, author
New York: John Wiley & Sons, 2003
616.89 PHA u
Buku Teks Universitas Indonesia Library