Ditemukan 89 dokumen yang sesuai dengan query
Makmur Heri Santoso, author
ABSTRACT
The color of material can be determined by using the optical system which measures the intensity of reflected light and its incident beam, and based on CIE standard developed by Newton the Quantitative identification can be found.

To carry out this measurement, an optical system was constructed using a...
1994
T-Pdf
UI - Tesis (Membership) Universitas Indonesia Library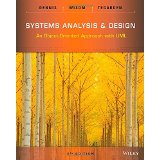 Dennis, Alan, 1951-, author
Hoboken: Wiley Blackwell, 2015
004.21 DEN s
Buku Teks Universitas Indonesia Library
Ball, Stuart R., 1956-, author
London: Elsevier, 2004
004.16 BAL a
Buku Teks Universitas Indonesia Library Muroga, Saburo, author
New York : John Wiley & Sons, 1982
621.381 73 MUR v
Buku Teks Universitas Indonesia Library
Avison, David, author
Summary: Covers Information Systems Development Context, the Systems Development Lifecycle, Themes of Systems Development, Techniques, Methodologies, Tools and Toolsets and Issues and Frameworks. This title analyzes context, issues and real-world problems associated with information systems developme...
Maidenhead: McGraw-Hill, 2006
025.524 AVI i
Buku Teks Universitas Indonesia Library
Riry Iptaria, author
PT. XYZ merupakan salah satu distributor resmi telepon selular di Indonesia. Sebagai distributor resmi, PT. XYZ bekerja sama dengan berbagai partner bisnis untuk memperluas bisnisnya. Para partner bisnis diberikan nama dengan istilah pusat layanan servis. Pusat layanan servis dikelompokkan ke dalam beberapa level, yaitu pusat layanan servis level 2, level...
Depok: Universitas Indonesia, 2006
PA-85
UI - Tesis (Membership) Universitas Indonesia Library
Hammami, Omar, editor
This book contains all refereed papers that were accepted to the second edition of the Complex Systems Design & Management (CSDM 2011) international conference that took place in Paris (France) from December 7 to December 9, 2011. These proceedings cover the most recent trends in the emerging field of...
Berlin: Springer, 2011
e20398066
eBooks Universitas Indonesia Library
This book consists of two closely intertwined parts. The first, theoretical part defines the concept of an information system, followed by an explanation of action regulation as well as cognitive theories to describe man information system interaction. A comprehensive description of information ergonomics concludes the theoretical approach. In the second,...
Berlin: [Springer, ], 2012
e20398415
eBooks Universitas Indonesia Library
Antje Düsterhoft, editor
This Festschrift, published in honor of Bernhard Thalheim on the occasion of his 60th birthday presents 20 articles by colleagues from all over the world with whom Bernhard Thalheim had cooperation in various respects; also included is a scientific biography contributed by the volume editors. The 20 contributions reflect the...
Berlin: [Springer-Verlag, ], 2012
e20409942
eBooks Universitas Indonesia Library
Harmon, Paul, author
Business process change, provides a balanced view of the field of business process change. Bestselling author Paul Harmon offers concepts, methods, cases for all aspects and phases of successful business process improvement. Updated and added for this edition is new material on the development of business models and business process...
Waltham, MA: Elsevier, 2014
e20426844
eBooks Universitas Indonesia Library