Ditemukan 9570 dokumen yang sesuai dengan query
Kapucu, Naim, author
Burlington, MA: Jones & Bartlett Learning, 2013
363.348 KAP m
Buku Teks Universitas Indonesia Library
Ashraf Labib, author
Learning from failures provides techniques to explore the root causes of specific disasters and how we can learn from them. It focuses on a number of well-known case studies, including : the sinking of the Titanic ; the BP Texas City incident ; the Chernobyl disaster; the NASA Space Shuttle...
Oxford, UK: Butterworth-Heinemann, 2014
e20427160
eBooks Universitas Indonesia Library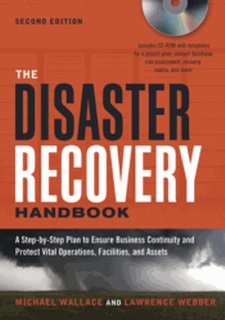 Wallace, Michael, author
Terrorist attacks. Data assaults. Natural catastrophes. Disease outbreaks. Recent years have taught us that not only was 9/11 not just a single, horrible occurrence, but that events of many types can - and statistically will - hit organizations of every size, threatening to disrupt and potentially even destroy those that...
New York: American Management Association, 2011
e20440695
eBooks Universitas Indonesia Library
Barnes, John A., author
Analyzes what made Kennedy, both before and during his Presidency, a unique and dominant force who would serve as the standard by which future leaders would be judged...
New York: American Management Association, 2005
e20441821
eBooks Universitas Indonesia Library
Nils Aschenbruck, editor
This book constitutes the refereed proceedings of the 7th Security Research Conference, Future Security 2012, held in Bonn, Germany, in September 2012. The 78 revised full papers presented were carefully reviewed and selected from 137 submissions. The papers are organized in topical sections on supply chain and critical infrastructure protection,...
Berlin: [, Springer-Verlag], 2012
e20410003
eBooks Universitas Indonesia Library
Snedaker, Susan, author
Powerful earthquake triggers tsunami in Pacific. Hurricane Isaac makes landfall in the Gulf Coast. Wildfires burn hundreds of houses and businesses in Colorado. Tornado touches down in Missouri. These headlines not only have caught the attention of people around the world, they have had a significant effect on IT professionals...
Waltham, MA: Syngress, 2014
e20426840
eBooks Universitas Indonesia Library
How will the funds of hedge funds (FoHF) business have to change to survive in the wake of the 2008-2012 financial crisis? This new research provides valuable insight. Reconsidering Funds of Hedge Funds presents the first comprehensive views of UCITS as well as recent trends in due diligence, risk management,...
Oxford, UK: Academic Press, 2013
e20427685
eBooks Universitas Indonesia Library Edinburgh : Books for Midwives , 2004
618.2 MID
Buku Teks Universitas Indonesia Library
Edinburgh: Elsevier , 2003
618.2 MID
Buku Teks Universitas Indonesia Library
Edinburgh: Elsevier , 2003
618.2 MID
Buku Teks Universitas Indonesia Library