Ditemukan 2692 dokumen yang sesuai dengan query
Turcotte, Donald L., author
New York: John Wiley and Sons, 1982
551 TUR g
Buku Teks Universitas Indonesia Library Purba, Jeremiah, author
Reading, MA: Addison-Wesley, 1967
530 CRO u
Buku Teks Universitas Indonesia Library Piscataway: California Research and Education Association, 1995
530.076 PHY
Buku Teks Universitas Indonesia Library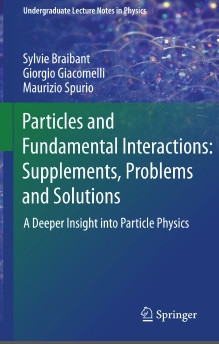 This volume is an exercises and solutions manual that complements the book "Particles and Fundamental Interactions" by Sylvie Braibant, Giorgio Giacomelli, and Maurizio Spurio. It aims to give additional intellectual stimulation for students in experimental particle physics. It will be a helpful companion in the preparation of a...
Dordrecht: Springer, 2012
e20424908
eBooks Universitas Indonesia Library Hademenos, George J., author
New York: McGraw-Hill, 1998
612.014 HAD s
Buku Teks Universitas Indonesia Library
Halpern, Alvin M.
New York: McGraw-Hill, 1995
531 HAL s (2);531 HAL s (2)
Buku Teks Universitas Indonesia Library
Slade, Catharine
Australia : Pageone, 2002
R 741.6 SLA e
Buku Referensi Universitas Indonesia Library New Jersey : Prentice-Hall, 1998
006.6 FRE
Buku Teks Universitas Indonesia Library
Arny, Thomas T., author
Boston: McGraw-Hill, Higher Education, 2004
520 ARN e
Buku Teks Universitas Indonesia Library
Hammersley, Martyn, author
London: Routledge, 1992
305.8 HAM w
Buku Teks Universitas Indonesia Library