Ditemukan 7380 dokumen yang sesuai dengan query
Lawler, Edward E., author
San Francisco: JOSSEY - BASS, 2008
658.3 Law t
Buku Teks Universitas Indonesia Library
Seagraves, Theresa, author
Quick! Show Me Your Value is the first book specifically designed to help you confidently communicate your true value at the most senior levels of an organization. By understanding how financial leaders think, you are liberated from your fear of interacting with these leaders. Discover new avenues for respect and...
Alexandria, VA: American Society for Training and Development Press, 2004
e20438792
eBooks Universitas Indonesia Library
New Delhi: Crest Publishing House, 1999
R 658.3 PEO V
Buku Referensi Universitas Indonesia Library
Phillips, Jack J., author
The importance of an organization's human capital -- its people -- cannot be overstated or overlooked, but like any other asset, it must be carefully managed and monitored. The people in a company reflect the investment not only of money, but also of the time dedicated to developing and executing...
New York: American Management Association;, 2005
e20441707
eBooks Universitas Indonesia Library
Pfeffer, Jeffrey
Boston: Harvard Business School Press , 1994
658.314 PFE c (1)
Buku Teks Universitas Indonesia Library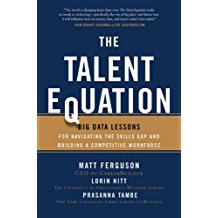 Ferguson, Matt, author
ummary: Is your HR department prepared to flip the big data switch? At every stage of the employee life cycle, a data-driven approach to HR can help companies make smarter decisions about their most important asset: their people. In the wake of the greatest shock to the labor market since the...
New York: McGraw-Hill, 2014
658.301 FER t
Buku Teks Universitas Indonesia Library
Gustriani Utami, author
Komitmen afektif merupakan sikap positif yang dimiliki oleh karyawan yang menunjukkan loyalitasnya pada perusahaan. Perusahaan perlu memperhatikan faktor yang berpengaruh dalam mendukung terciptanya komitmen afektif, salah satunya High Commitment Human Resource Practices (HCHRP). Penelitian ini bertujuan untuk mengetahui peran usia sebagai moderator hubungan antara HCHRP dan komitmen afektif yang dikelompokkan...
2019
T53419
UI - Tesis (Membership) Universitas Indonesia Library
McGrath, Rita Gunther, author
Boston: Massachusetts Harvard Business Review Press, 2013
658.401 2 MCC e
Buku Teks Universitas Indonesia Library Porter, Michael E., author
New York: The Free Press , 1990
338.9 POR c
Buku Teks Universitas Indonesia Library Bendell, Tony, author
Jakarta: Elex Media Komputindo, 2000
658.15 Ben b
Buku Teks Universitas Indonesia Library