Ditemukan 8710 dokumen yang sesuai dengan query
Singapore: World Scientific, 2010
620.5 NAN
Buku Teks Universitas Indonesia Library
New Jersey: World Scientific , 2009
620.5 SEL
Buku Teks Universitas Indonesia Library
Boca Raton: CRC Press, Taylor & Francis Group, 2009
620.5 Int
Buku Teks Universitas Indonesia Library
Boca Raton: CRC Press, Taylor & Francis Group, 2008
620.5 INT
Buku Teks Universitas Indonesia Library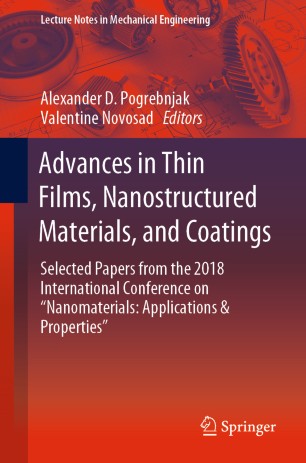 This book highlights the latest advances in chemical and physical methods for thin-film deposition and surface engineering, including ion- and plasma-assisted processes, focusing on explaining the synthesis/processing-structure-properties relationship for a variety of thin-film systems. It covers topics such as advances in thin-film synthesis; new thin-film materials: diamond-like films, granular alloys,...
Singapore: Springer Nature, 2019
e20506167
eBooks Universitas Indonesia Library
Hsu, James J. Y., author
Singapore: Pan Stanford Publishing, 2009
620.5 HSU n
Buku Teks Universitas Indonesia Library
Nanotechnology is a new and emerging discipline that is multidisciplinary and interdisciplinary. The usage of nanosystems, nanomaterials, nano-devices, etc. permeates all aspects of society. Cancer targeting and curing nanosystems are being introduced into the biomedical and pharmaceutical industries; so are lightweight energy absorbing or blast-proof nanohybrid material in the aerospace,...
Burlington, M.A.: Elsevier, 2013
e20427424
eBooks Universitas Indonesia Library
Kuno, Masaru, author
London: Garland Science, 2012
620.5 KUN i
Buku Teks Universitas Indonesia Library
Atkinson, William Illsey, author
Nanoscience is taking technology to a realm of astounding possibilities. With Nanocosm, Atkinson reveals a spectacular view of the immediate future of nanoscience and its applications in medicine, computing, engineering, and other arenas that affect our world, redefining how we work, play, and live...
New York: American Management Association, 2003
e20438611
eBooks Universitas Indonesia Library
Atkinson, William Illsey, author
New York: Amacom, 2003
620.5 ATK n
Buku Teks Universitas Indonesia Library