Ditemukan 9654 dokumen yang sesuai dengan query
Singapore: World Scientific , 1989
530.15 GEO
Buku Teks Universitas Indonesia Library
Marsden, Jerrold E., author
A monograph on some of the ways geometry and analysis can be used in mathematical problems of physical interest. The roles of symmetry, bifurcation and Hamiltonian systems in diverse applications are explored...
Philadelphia : Society for Industrial and Applied Mathematics, 1981
e20442915
eBooks Universitas Indonesia Library
Cornwell, J.F., author
London: Academic Press, 1989
530.152 COR g
Buku Teks Universitas Indonesia Library
Kholodenko, Arkady Leonidovich, 1948-, author
New Jersey: World Scientific, 2013
530.15 KHO a
Buku Teks Universitas Indonesia Library
This book is a collection of papers in memory of Gu Chaohao on the subjects of Differential Geometry, Partial Differential Equations and Mathematical Physics that Gu Chaohao made great contributions to with all his intelligence during his lifetime. All contributors to this book are close friends, colleagues and students of...
New Jersey: World Scientific, 2014
516.36 FRO
Buku Teks Universitas Indonesia Library
---
ABSTRACT
This book is a collection of papers in memory of Gu Chaohao on the subjects of Differential Geometry, Partial Differential Equations and Mathematical Physics that Gu Chaohao made great contributions to with all his intelligence during his lifetime. All contributors to this book are close friends, colleagues and students of...

Hackensack, New Jersey: World Scientific , 2014

516.3 FRO

Buku Teks Universitas Indonesia Library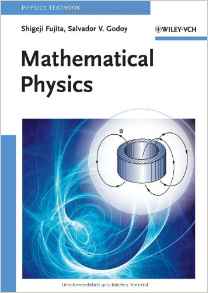 Fujita, Shigeji, author
Weinheim: Wiley-VCH, 2010
530.15 FUJ m
Buku Teks Universitas Indonesia Library
Butkov, Eugene
Reading, Mass.: Addison-Wesley, 1968
530.15 BUT m (2)
Buku Teks Universitas Indonesia Library Courant, R., author
New York: Interscience, 1953
530.15 COU m I
Buku Teks Universitas Indonesia Library
Carroll, Robert
Amsterdam: North-Holland, 1991
530.15 CAR m
Buku Teks Universitas Indonesia Library