Ditemukan 3483 dokumen yang sesuai dengan query
Berlin: Springer-Verlag, 1988
551.9 FAC
Buku Teks Universitas Indonesia Library
Reddy, K. Ramesh, author
Boca Raton: CRC Press, 2008
577.68 RED b
Buku Teks Universitas Indonesia Library Libes, Susan M., author
New York: John Wiley and Sons, 1992
551.460 1 LIB i
Buku Teks Universitas Indonesia Library
Jean-Pierre Descy, editor
The eleven chapters cover many aspects of the physics, geochemistry and biology of the lake, with a particular focus on the unique physical and geochemical features of the water column and on the ecological functioning of the surface waters. The impacts of the introduced fish species and the potential impacts...
Dordrecht: [Springer, ], 2012
e20417401
eBooks Universitas Indonesia Library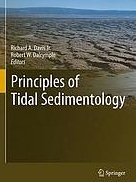 Richard A. Davis, Jr., editor
This book presents a comprehensive, contemporary review of tidal environments and deposits. Individual chapters, each written by world-class experts, cover the full spectrum of coastal, shallow-marine and even deep-marine settings where tidal action influences or controls sediment movement and deposition. Both siliciclastic and carbonate deposits are covered. Various chapters...
Dordrecht, Netherlands: Springer, 2012
e20405744
eBooks Universitas Indonesia Library
Oxford: Pergamon Press, 1976
551.46 QUA
Buku Teks Universitas Indonesia Library
A sedimentology survey was conducted during "Pelayaran Kebangsaan� research activities with a marine vessel of "Baruna Jaya VIII" in Karimun Java Sea. The objectives of the research were to determine the characteristics of marine water and its sediment, which are important control for coral reef growth in the study area....
620 JITK 3:1 (2011)
Artikel Jurnal Universitas Indonesia Library
Sediment toxicity test are becoming increasingly important in regulation and assessment programs throughout the world. Sediment toxicity testing using planktonic diatom, chaetoceros gracilis has been developed to determine the suitability of the diatom as sediment test organism......
Artikel Jurnal Universitas Indonesia Library
Five sediment cores from the fresh water region of the vembanad wetland system were studied for the trace element contents the average concentration of iron ,manganese, nickel, copper, zinc,cadmium,lead, mercury and chromium were determined......
Artikel Jurnal Universitas Indonesia Library
Henderson, Paul, author
Oxford: Pergamon Press , 1982
551.9 HEN i
Buku Teks Universitas Indonesia Library