Ditemukan 10704 dokumen yang sesuai dengan query
Rotterdam: Universitaire Pers Rotterdam, 1967
338.91 TOW
Buku Teks Universitas Indonesia Library
JIIS 6:1(2012)
Artikel Jurnal Universitas Indonesia Library
Abstrak
Palm oil has become one of the most contested agricultural commodities in developing countries. This commodity character should be viewed in the context of the transnational behavior of agribusiness capital and related industrial restructuring. This paper focuses on the globalization of agribusiness capital and its impact on the industrial structure...
Japan: Southeast Asian Studies, Kyoto University, 2018
330 JJSAS 55:2 (2018)
Artikel Jurnal Universitas Indonesia Library
Richman, Barry M.
New York: McGraw-Hill, 1972
658.18 RIC i
Buku Teks Universitas Indonesia Library
Nairobi: United Nations Centre for Human Settlements (Habitat] , 1990
631.4 GUI
Buku Teks Universitas Indonesia Library
Sussman, Maurice, author
New Jersey : Prentice-Hall, 1964
571.8462 SUS g
Buku Teks Universitas Indonesia Library
Piston, Katharina
New York : United Nations, 2000
340 PIS s
Buku Teks Universitas Indonesia Library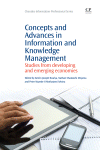 Bwalya, Kelvin Joseph, editor
Effective information and knowledge resource management is a driver of competiveness. Many developing countries have put mechanisms in place that seek to match knowledge-based economies, where information has become the fuel for responsiveness, innovation, and competition. Concepts and advances in information knowledge management brings out emerging and current discussion from...
Oxford, UK: Chandos, 2014
e20426899
eBooks Universitas Indonesia Library
Daiches, D.
Chicago: University of Chicago Press , 1941
220.5 DAI k
Buku Teks Universitas Indonesia Library
Cole, David C., author
Singapore: Pacific Trade Development, 1984
332 COL f
Buku Teks Universitas Indonesia Library