Ditemukan 31960 dokumen yang sesuai dengan query
Allen, Roy E.
Cheltenham: Edward Elgar Publishing, 1999
338.542 ALL f (1)
Buku Teks Universitas Indonesia Library
How do economists reconcile their expertise with their failures to predict and manage the 2008 financial crisis? This book goes a long way toward an answer by using systems theory to reveal the complex interdependence of factors and forces behind the crisis. In her fully integrated view of the economy,...
Oxford, UK: Academic Press, 2013
e20427063
eBooks Universitas Indonesia Library
Northampton : Edward Elgar Publishing, 1999
332.46 CUR
Buku Teks Universitas Indonesia Library
Summary: The Great Financial Crisis that began in 2007-2008 reminds us with devastating force that financial instability and crises are endemic to capitalist economies. This Handbook describes the theoretical, institutional, and historical factors that can help us understand the forces that create financial crises.Synopsis "Many leading critics of the capitalist financial system...
New York, NY: Oxford University Press, 2013
332.097 3 HAN
Buku Teks Universitas Indonesia Library
Kruck, Andreas, 1981-, author
Basingstoke: Palgrave Macmillan, 2011
346.082 KRU p
Buku Teks Universitas Indonesia Library
Calfin Murrin Yp, author
ABSTRAK
Efek dari krisis ekonomi semakin lama semakin meluas. Krisis Asia 1997-1998 dan Krisis Global 2008 adalah contoh nyata penyebaran krisis ekonomi. Melalui metode komparasi, tinjauan literatur ini melihat bagaimana perkembangan kanal penyebaran krisis saat Asia 1997- 1998 dan Krisis Global 2008. Terlihat adanya perbedaan signifikansi kanal antara Krisis Asia dan...
2016
TA-pdf
UI - Tugas Akhir Universitas Indonesia Library
Barton, Dominic, author
New York: John Wiley and Sons, 2003
338.542 BAR d
Buku Teks Universitas Indonesia Library
This study tries to identify the accurate state and length of the global financial crisis, estimate the risk in the stock and foreign exchange (FX) markets during the financial turmoil and comprehensively analyze the characteristics of the risk...
330 JER 15:3 (2010)
Artikel Jurnal Universitas Indonesia Library
Boston: Harvard Business School Press , 1995
332.042 GLO
Buku Teks Universitas Indonesia Library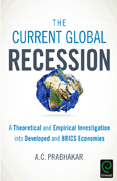 Prabhakar, Akhilesh Chandra, author
By using empirical understanding and new policy data, this important new title investigates the world-wide economic crisis. The global recession has had a truly international reach, with repercussions reverberating throughout nations and across societies. The book examines the overall causes of the crisis and the failures of mainstream economics, and...
United Kingdom: Emerald, 2016
e20469592
eBooks Universitas Indonesia Library