Ditemukan 6522 dokumen yang sesuai dengan query Tuleja, Tad
New York: Facts On File Publications, 1985
174.4 TUL b (1)
Buku Teks Universitas Indonesia Library Warner, W. Lloyd, author
New York: Harper & Brothers , 1955
658.3 WAR b
Buku Teks Universitas Indonesia Library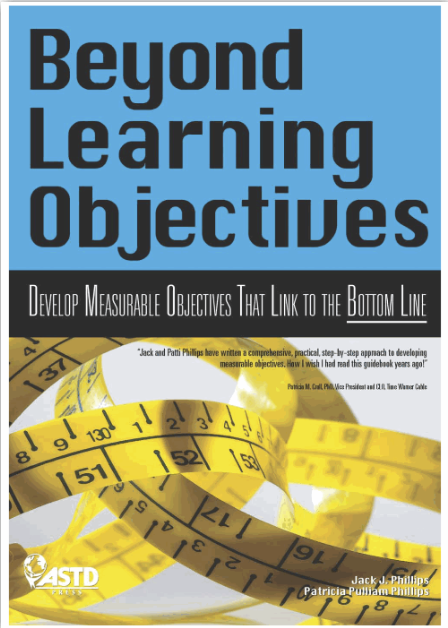 Phillips, Jack J., author
A learning objective is a statement that describes expected outcomes of a learning event. A seemingly simple concept, it is extremely important in the process of developing effective learning programs. This book links learning objectives to program return on investment (ROI)....
Birmingham, Alabama: American Society for Training & Development, 2008
e20441338
eBooks Universitas Indonesia Library
Liautaud, Bernard, 1962-, author
New York: McGraw-Hill, 2000
658.47 Lia e
Buku Teks Universitas Indonesia Library
Hatten, Timothy S., author
New Jersey: Prentice-Hall, 1997
R 658.022 HAT s
Buku Referensi Universitas Indonesia Library Hong Kong: Dow Jones Asia Dialogue, 1996
658.409 2 ASI
Buku Teks Universitas Indonesia Library
Boston: Harvard Business School Press, 2004
658.409 HAR
Buku Teks Universitas Indonesia Library
Treasur, Bill, author
Leadership is the most overanalyzed, thoroughly dissected, and utterly confused topic in business. In Leaders Open Doors, author Bill Treasurer helps lighten the leadership load by distilling that leaders are simply creators of opportunity for others. Using personal stories and anecdotes, Treasurer presents the idea of open-door leadership-that is, the...
Alexandra, VA: American Society For Training & Development, 2014
658 TRE l
Buku Teks Universitas Indonesia Library
Christensen, Ralph, author
Drawn from the author's more than 25 years of experience and insights as an HR practitioner at Hallmark and other companies, the book outlines a 10-step, results-oriented plan for making the transition. It helps you integrate top-quality tactical work with innovative internal systems -- talent systems, training systems, reward systems,...
New York: American Management Association, 2006
e20441780
eBooks Universitas Indonesia Library
Ghadiri, Argang, author
The book approaches the background, history, and major thinkers in the field, but also reassesses the fundamental concept of neuroleadership. The authors look into the fundamental basic needs of human beings, how they are represented in the neural networks, and how this manifests in motivational drives. The book also focuses...
Berlin: [Spinger-Verlag, ], 2012
e20410688
eBooks Universitas Indonesia Library