Ditemukan 1394 dokumen yang sesuai dengan query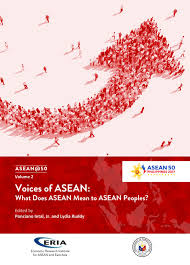 Jakarta: ERIA (Economic Research Institute for ASEAN and East Asia), 2017
341.247 3 ASS v
Buku Teks Universitas Indonesia Library Jakarta: Pusat Penelitian Politik LIPI, 2005
959 STR
Buku Teks Universitas Indonesia Library
Jakarta: ASEAN Secretariat, 1994
362.29 ASS a
Buku Teks Universitas Indonesia Library Bangkok: 0, 1987
340.5 ASE l
Buku Teks Universitas Indonesia Library
Jakarta: ERIA (Economic Research Institute for ASEAN and East Asia), 2017
341.247 3 ASS a
Buku Teks Universitas Indonesia Library
ASEAN RISING: ASEAN and AEC Beyond 2015 puts together ideas, thoughts and papers from more than 30 experts and specialists in the region on various areas relating to ASEAN and AEC beyond 2015. It discusses the challenges for ASEAN and AEC, how to face them and how ASEAN should move...
Jakarta: Economic Research Institute for ASEAN and East Asia, 2014
327.111 ASE
Buku Teks Universitas Indonesia Library
Jakarta: Sekretariat Nasional ASEAN, 1992
341.247 ASE
Buku Teks Universitas Indonesia Library
A November 2008 ruling of the supreme court of Argentina has chalenged the country's statutory system of trade union monopoly. That the "most representative" union be granted such exclusive powers and rights as to marginalize others within the same industry was found to be inconsistent both with the...
Artikel Jurnal Universitas Indonesia Library
Janda, Kenneth, author
Boston: Houghton Mifflin, 2000
320.473 JAN c
Buku Teks Universitas Indonesia Library
While widely accepted as the only global instrument to tackle global warning, Kyoto protocol has proven its inadequacy to enforce the basic principles of polluter pays and common but different responsibility. Kyoto's legacies which was concluded by the results of 13th conference of parties (COP) in...
Artikel Jurnal Universitas Indonesia Library