Ditemukan 42184 dokumen yang sesuai dengan query
Kirshner, Jonathan, author
New Jersey: Princenton University Press, 1995
332.4 KIR c
Buku Teks Universitas Indonesia Library
This book aims to present innovative theoretical and empirical approaches that can increase our understanding of this transition. Scholars from the fields of international relations, international political economy, economics and security studies not only explore current theoretical debates on ?power? and ?power shifts? among entities, but also provide fresh insights...
Berlin: Springer, 2012
e20400634
eBooks Universitas Indonesia Library
Adem, Seifudein, author
This title was first published in 2002. Questioning the most fundamental assumptions of international relations theory, this absorbing work compares and contrasts domestic and international politics regarding the issues of order and disorder taking into account aspects of the two realms which have been neglected by scholarship until now. Challenging...
London: Routledge, Taylor & Francis Group, 2018
327.101 ADE a
Buku Teks Universitas Indonesia Library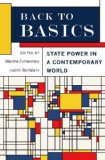 Oxford: Oxford University Press, 2013
327.11 BAC
Buku Teks Universitas Indonesia Library
Agnew, John
London: Routledge , 1995
320.12 AGN m
Buku Teks Universitas Indonesia Library
Challenging the assumptions of 'mainstream' International Political Economy (IPE), this Handbook demonstrates the considerable value of critical theory to the discipline through a series of cutting-edge studies. The field of IPE has always had an inbuilt vocation within Historical Materialism, with an explicit ambition to make sense, from a critical...
London: Palgrave Macmillan, 2016
337.01 PAl
Buku Teks Universitas Indonesia Library
Frieden, Jeffry A., author
London: Routledge, 1997
337 FRI i (1)
Buku Teks Universitas Indonesia Library
Balaam, David N., 1950-, author
Boston: Pearson Education, 2014
337 BAL i
Buku Teks Universitas Indonesia Library
Balaam, David N., 1950-, author
New Jersey: Pearson/Prentice Hall, 2005
337 BAL i
Buku Teks Universitas Indonesia Library
Lairson, Thomas D., author
Belmont: Thomson, 2003
327.11 LAI i
Buku Teks Universitas Indonesia Library