Ditemukan 33469 dokumen yang sesuai dengan query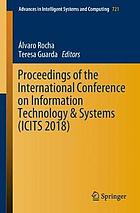 This book includes a selection of articles from the 2018 International Conference on Information Technology & Systems (ICITS 18), held on January 10 - 12, 2018, at the Universidad Estatal Península de Santa Elena, Libertad City, Ecuador. ICIST is a global forum for researchers and practitioners to present and discuss...
Switzerland: Springer, 2018
004 PRO
Buku Teks Universitas Indonesia Library
Manila: Regional Office for the Western Pacific, 1993
613 WOR g
Buku Teks Universitas Indonesia Library
Theirauf, Robert J.
Englewood Cliffs, NJ: Prentice-Hall, 1975
658.403 THE s
Buku Teks Universitas Indonesia Library
Taylor, James, author
"With software and hardware development techniques improving constantly, it's surprising to learn that more than half of all technology projects overrun their schedules and budgets by 200 percent or more. Computerworld magazine recently reported several surveys showing that project failure is overwhelmingly traceable to poorly defined project organization, a lack...
New York: [American Management Association, American Management Association], 2004
e20438606
eBooks Universitas Indonesia Library
Long, Larry E., author
New Jersey: Prentice-Hall, 1989
658.403 8 LON m
Buku Teks Universitas Indonesia Library
Singopore : SSMB Publishing Division, 1995
658.403 8 MAN (1)
Buku Teks Universitas Indonesia Library
O`Brien, James A., 1936-, author
Boston: McGraw-Hill/Irwin, 2004
658.4038 OBR m
Buku Teks Universitas Indonesia Library
Stair, Ralph M., Jr., author
Boston: Boyd & Fraser Publishing, 1992
658.403 8 STA p
Buku Teks Universitas Indonesia Library
Lundeberg, Mats, author
Englewood Cliffs: Prentice-Hall, 1981
658.403 8 LUN i
Buku Teks Universitas Indonesia Library
Zwass, Vladimir
Boston: Irwin-McGraw-Hill, 1998
658.403 ZWA f
Buku Teks Universitas Indonesia Library