Ditemukan 6995 dokumen yang sesuai dengan query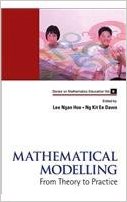 New Jersey: World Scientific, 2015
510.71 MAT
Buku Teks Universitas Indonesia Library
Henderson, James M., author
New York: McGraw-Hill, 1958
330.182 HEN m
Buku Teks Universitas Indonesia Library
Intriligator, Michael D., author
Mathematical Optimization and Economic Theory provides a self-contained introduction to and survey of mathematical programming and control techniques and their applications to static and dynamic problems in economics, respectively. It is distinctive in showing the unity of the various approaches to solving problems of constrained optimization that all stem back...
Philadelphia: Society for Industrial and Applied Mathematics, 2002
e20450608
eBooks Universitas Indonesia Library
Barlow, Richard E., author
This monograph presents a survey of mathematical models useful in solving reliability problems. It includes a detailed discussion of life distributions corresponding to wearout and their use in determining maintenance policies, and covers important topics such as the theory of increasing (decreasing) failure rate distributions, optimum maintenance policies, and the...
Philadelphia : Society for Industrial and Applied Mathematics, 1996
e20442733
eBooks Universitas Indonesia Library
Henderson, James M., author
New York: McGraw-Hill, 1980
338.5 HEN m
Buku Teks Universitas Indonesia Library
Barnett, Stephen, author
Oxford: Clarendon Press, 1990
629.831 2 BAR i
Buku Teks Universitas Indonesia Library
Baldock, G.R., author
Chichester: Ellis Horwood, 1981
531.113 3 BAL m
Buku Teks Universitas Indonesia Library Rohatgi, V.K., author
New York : John Wiley and Sons, 1976
519.2 ROH i
Buku Teks Universitas Indonesia Library
Jones, A.J., author
New York: Ellis Horwood and John Wiley & Sons, 1980
519.3 JON g
Buku Teks Universitas Indonesia Library Bailley, Norman T. J., author
London: Charles Griffin, 1975
519.52 BAI m
Buku Teks Universitas Indonesia Library