Ditemukan 5054 dokumen yang sesuai dengan query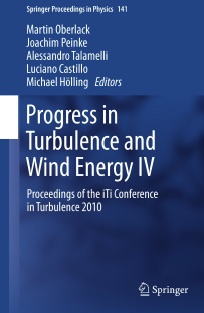 This fourth issue on "progress in turbulence" is based on the fourth ITI conference (ITI interdisciplinary turbulence initiative), which took place in Bertinoro, North Italy. Leading researchers from the engineering and physical sciences presented latest results in turbulence research. Basic as well as applied research is driven by the rather...
Berlin : Springer-Verlag, 2012
e20425339
eBooks Universitas Indonesia Library
Gun Gun Ramdlan G., author
As an initial analysis, numerical simulation has more advantages in saving time and costs regarding experiments. For example, variations in flow conditions and geometry can be adjusted easily to obtain results. Computational fluid dynamics (CFD) methods, such as the k-ε model, renormalization group (RNG) k-ε model and reynolds stress model (RSM), are widely used to conduct...
2016
J-Pdf
Artikel Jurnal Universitas Indonesia Library
Narita, Yasuhito, author
Dynamics of astrophysical systems is often described by plasma physics, yet understanding the nature of plasma turbulence remains as a challenge in physics in both theories and experiments. This book is an up-to-date summary and review of recent results in research on waves and turbulence in near-Earth space plasma turbulence,...
Heidelberg : Springer, 2012
e20424871
eBooks Universitas Indonesia Library
Bradshaw, P., author
Oxford: Pergamon Press, 1971
620.1 BRA i
Buku Teks Universitas Indonesia Library
Bradshaw, P., author
Oxford: Pergamon Press, 1985
620.1 BRA i
Buku Teks Universitas Indonesia Library
New York: McGraw-Hill, 1982
536.2 STR
Buku Teks Universitas Indonesia Library
Agustina Rachmawardani, author
Telah berhasil dibuat sebuah alat pengukuran arah dan kecepatan angin (anemometer) untuk menghitung turbulensi dan analisa potensi angin. Dengan mengukur potensi angin bisa didapat informasi tentang angin yang nantinya informasi angin tersebut dapat digunakan untuk keperluan pemanfaatan angin. Dari pengukuran potensi angin didapat data-data sebagai berikut frekwensi kecepatan angin tertinggi...
Depok: Fakultas Matematika dan Ilmu Pengetahuan Alam Universitas Indonesia, 2012
T31931
UI - Tesis (Open) Universitas Indonesia Library
James, Colin, author
Wellington, N.Z. : Allen & Unwin : Port Nicholson Press, 1986
993.103 JAM q
Buku Teks Universitas Indonesia Library
Kotler, Philip, author
We have entered into an entirely new era, an age of increasingly frequent and intense periods of turbulence in the global economy. Unlike past recessions, today's crises have precipitated a need for businesses to develop a new mindset, one that takes into account intermittent periods of disturbance, allowing them to...
New York: [American Management Association, ], 2009
e20440366
eBooks Universitas Indonesia Library
Panofsky, Hans A., author
New York: John Wiley and Sons, 1984
551.515 PAN a
Buku Teks Universitas Indonesia Library