Ditemukan 9813 dokumen yang sesuai dengan query New Delhi: WHO, 2006
362.292 RED
Buku Teks Universitas Indonesia Library
McAllister, David, author
Aldershot: Avebury, 1992
364.36 MCA f
Buku Teks Universitas Indonesia Library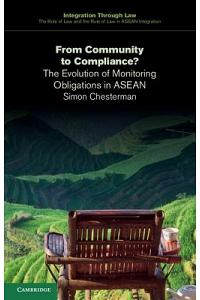 Chesterman, Simon, author
---
ABSTRACT
This book examines the growing interest in following through on international commitments, in particular monitoring implementation and compliance. Written for practitioners and researchers alike, this important book provides the first systematic survey of monitoring within ASEAN. ...

Cambridge, UK: Cambridge University Press, 2015

346.259 CHE f

Buku Teks Universitas Indonesia Library McAllister, David, author
Brookfiel USA: Aldershot Averbury, 1992
364.36 MCA f
Buku Teks Universitas Indonesia Library
Sihombing, Antony, author
Jakarta is, indeed a kampung and at the same time a kota. Jakarta is a complex city or city of contrasts: the traditional and modern, the rich and poor; the sacred and the worldly, often standing side by side in this bustling metropolis. Jakarta is a big city and as...
Jurnal Teknologi, 2005
JUTE-19-1-Mar2005-48
Artikel Jurnal Universitas Indonesia Library
The Multi Donor Fund for Aceh and Nias (MDF) and the Java Reconstruction Fund (JRF) have played significant roles in the remarkable recovery of Aceh, Nias and Java, following some of the worst disasters in Indonesia in recent years. The MDF and the JRF, which is patterned after it, are...
Jakarta: Multi Donor Fund, 2012
363.348 ADA I
Buku Teks Universitas Indonesia Library
Ilmu pengetahuan merupakan sumber penting dalam sesebuah organisasi yang memberi kesan kepada sasaran pencapaian organisasi. Realiti ini menjelaskan kepentingan mengenal pasti aset-aset pengetahuan dan menangani jurang pengetahuan bagi menjamin aktiviti perkongsian pengetahuan adalah konsisten dan berterusan dalam sesebuah organisasi. Pejabat lanjutan merupakan organisasi perkongsian pengetahuan yang unik di mana melibatkan...
JBSD 1:2 (2013)
Artikel Jurnal Universitas Indonesia Library
The Rakhine (Arakanese) from present-day Rakhine State (Arakan) in Western Myanmar and the Marma from the Chittagong Hill Tracts (CHT) of Southeast Bangladesh originated from the same region, share the same culture and practice the same religion. However, the people from CHT have developed a distinctive identity and are individualized...
300 SVB 7 (2) 2015
Artikel Jurnal Universitas Indonesia Library
Pao-chien Wang, author
ABSTRACT
In order to set up a more effective mechanism for revitalizing the Hakka language, the Legislative Yuan passed the amendment of Hakka Basic Act on December 29th, 2017. The revised version of Act institutes Hakka language as the local and teaching language in those "major Hakka cultural areas" (Hakka villages)....
Taipei: Taiwan Foundation for Democracy, 2018
059 TDQ 15:1 (2018)
Artikel Jurnal Universitas Indonesia Library
Irmawati Marwoto, author
Archaeological relevance for the present has become an important issue in the world of archaeology. This paper aims to examine how the biography of artefacts of pottery fragments from the old Banten site, the site of Banten Sultanate of the sixteenth century AD, became a marker of the cultural identity...
Depok: Faculty of Humanities University of Indonesia, 2019
909 UI-WACANA 20:2 (2019)
Artikel Jurnal Universitas Indonesia Library