Ditemukan 6918 dokumen yang sesuai dengan query
Bacha, Obiyathulla Ismath, author
Singapore: ohn Wiley &​ Sons Singapore Pte. Ltd, 2013
332.041 BAC i
Buku Teks Universitas Indonesia Library
Bacha, Obiyathulla Ismath, author
Singapore: Wiley, 2013
332.109 BAC i
Buku Teks Universitas Indonesia Library
Buddhist Philosophy: A Comparative Approach presents a series of readings that examine the prominent thinkers and texts of the Buddhist tradition in the round, introducing contemporary readers to major theories and debates at the intersection of Buddhist and Western though...
Hoboken, NJ: John Wiley and Sons, 2018
180.043 BUD
Buku Teks Universitas Indonesia Library

Hassan, M. Kabir, author
"The standardization of Islamic financial products is currently evolving, both for Islamic derivatives & hedging methods and for Islamic bonds (Sukuk) and the process of standardization is expected to start soon also for other Islamic instruments. Islamic capital markets, and Islamic finance in general, is experiencing global rapid growth and...
Chichester: Wiley , 2011
332.041 5 HAS i
Buku Teks Universitas Indonesia Library
Omar, Mohs Azmi, author
Singapore: Wiley, 2013
332.64 OMA f
Buku Teks Universitas Indonesia Library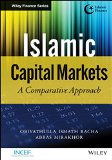 Chichester: Wiley, 2011
332.041 ISL
Buku Teks Universitas Indonesia Library
Krichene, Noureddine, author
A comprehensive look at the essentials of Islamic capital markets Bringing together theoretical and practical aspects of capital markets, Islamic Capital Markets offers readers a comprehensive insight into the institutions, instruments, and regulatory framework that comprise Islamic capital markets. Also exploring ideas about money, central banking, and economic growth theory...
Singapore : John Wiley and Sons, 2013
332.041 KRI i
Buku Teks Universitas Indonesia Library
Nurul Arifah Wahyuni, author
ABSTRAK
Penelitian ini dilakukan untuk mengetahui pengaruh modal dan risiko terhadap efisiensi bank di Indonesia. Data yang digunakan berasal dari laporan keuangan 59 bank konvensional dan 19 bank syariah. Efisiensi dihitung menggunakan pendekatan nonparametrik Data Envelopment Analysis DEA. Selama periode 2012-2016, bank syariah memiliki modal dan efisiensi yang lebih rendah, serta...
2018
S-Pdf
UI - Skripsi (Membership) Universitas Indonesia Library
Schenk, Alan, author
Summary: This book integrates legal, economic, and administrative materials about the value added tax to present the only comparative study of VAT la...
Cambridge, UK: Cambridge University Press, 2015
336.171 4 SCH v
Buku Teks Universitas Indonesia Library
Westgeest, Helen, 1958-,
Video Art Theory: A Comparative Approach demonstrates how video art functions on the basis of a comparative media approach, providing a crucial understanding of video as a medium in contemporary art and of the visual mediations we encounter in daily life. Having a highly elusive character from the outset, video art...
Hoboken, New Jersey: John Wiley &​ Sons, 2016
777 WES v
Buku Teks Universitas Indonesia Library