Ditemukan 28952 dokumen yang sesuai dengan query
Mollett, Amy, author
Author: Amy Mollett; Cheryl Brumley; Chris Gilson; Sierra Williams Publisher: Los Angeles SAGE 2017 Edition/Format: Print book : EnglishView all editions and formats Summary: This book will help researchers to maximize the impact and highlight the innovation of their research by showing them how to get the most out of social media when evaluating,...
Los Angeles: SAGE, 2017
302.23 MOL c
Buku Teks Universitas Indonesia Library
Gilmore, Glen, author
Social media is where your customers are--so it is where your business has to be. Unfortunately, this space is packed with land mines that can obliterate your hard-earned success in the time it takes to click a mouse. Written in easy-to-understand, accessible language, this book reveals your legal rights and...
New York: McGraw-Hill , 2015
343.730 9 GIL s
Buku Teks Universitas Indonesia Library
Jenkins, Sue, author
New York: Churchill Livingstone, 1998
615.851 507 2 JEN r
Buku Teks Universitas Indonesia Library
Gultom, Atikah Putri Adrilia, author
ABSTRAK
Penggunaan media sosial tidak dapat dipisahkan dari kehidupan sehari-hari, jumlah penggunanya di Indonesia meningkat setiap harinya terutama masyarakat di kota-kota besar. Tujuan penelitian ini ialah untuk menambah pengetahuan terkait faktor perkembangan teknologi informasi yang menjadi salah satu penyebab munculnya Vlog di YouTube serta melihat motivasi penggunaan dan perkembangan industri media...
2017
MK-Pdf
UI - Makalah dan Kertas Kerja Universitas Indonesia Library
Vaughan, Roger J., author
London: Sage, 1998
300.72 Vau c
Buku Teks Universitas Indonesia Library
Reid, Marie, author
London: Routledge, 2000
302.35 REI c
Koleksi Publik Universitas Indonesia Library
Is there more to qualitative data collection than face-to-face interviews? Answering with a resounding 'yes', this book introduces the reader to a wide array of exciting and novel techniques for collecting qualitative data in the social and health sciences. Collecting Qualitative Data offers a practical and accessible guide to textual,...
Cambridge: Cambridge University Press, 2017
e20519374
eBooks Universitas Indonesia Library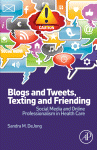 DeJong, Sandra M., author
Blogs and tweets, texting and friending : social media and online professionalism in health care summarizes the most common mistakes, and their legal and ethical ramifications, made in social media by busy health care professionals. It gives best practices for using social media while maintaining online professionalism. The book goes...
San Diego: Academic Press, 2014
e20426827
eBooks Universitas Indonesia Library
Denscombe, Martyn, author
Maidenhead: Open University Press, 2012
300.72 DEN r (1);300.72 DEN r (2);300.72 DEN r (2);300.72 DEN r (2);300.72 DEN r (2)
Buku Teks Universitas Indonesia Library London: SAGE, 2013
338.900 72 RES
Buku Teks Universitas Indonesia Library