Ditemukan 507 dokumen yang sesuai dengan query
New York: Oceana, 1956
923 WIL
Buku Teks Universitas Indonesia Library
London: Routledge , 1997
070.4 JOU
Buku Teks Universitas Indonesia Library
London: Routledge, 2004
149.97 POS
Buku Teks Universitas Indonesia Library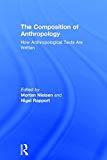 New York: Routledge, 2018
808.066 COM
Buku Teks Universitas Indonesia Library
Souvatzi, Stella G., 1966-, author
"The study of households and everyday life is increasingly recognized as fundamental in social archeological analysis. This volume is the first to address the household as a process and as a conceptual and analytical means through which we can interpret social organization from the bottom up. In case studies from...
Cambridge: Cambridge University Press, 2008
938 SOU s
Buku Teks Universitas Indonesia Library
Moberg, Mark, 1959-, author
This lively book offers a fresh look at the history of anthropological theory. Covering key concepts and theorists, Mark Moberg examines the historical context of anthropological ideas and the contested nature of anthropology itself. Anthropological ideas regarding human diversity have always been rooted in the socio-political conditions in which they...
New York, NY : Routledge, 2013
301.1 MOB e
Buku Teks Universitas Indonesia Library Moore, Sally Falk
London: Routledge & Kegan Paul, 1978
340.115 MOO l
Buku Teks Universitas Indonesia Library
Palmer, Catherine (Catherine A.), author
New York: Routledge, 2018
306.481 9 PAL b
Buku Teks Universitas Indonesia Library
Watson, Richard A., author
New York: Harcourt, Brace and World, 1969
301.3 WAT m
Buku Teks Universitas Indonesia Library
Amsterdam Royal Tropical Institue. Departement of Anthropology 1962
572.792 4 I 280 I
Buku Teks Universitas Indonesia Library