Ditemukan 9221 dokumen yang sesuai dengan query
Singapore: Institute of Southeast Asian Studies, 2004
325.2 INT (1)
Buku Teks Universitas Indonesia Library Migration, trafficking and smuggling are different issues but inter-related. Migration may take place through regular or irregular channels and could be freely chosen or forced upon the migrant as a means of survival. international migration is one of the responses to the changes of socio-economic conditions between countries as people attempt to improve their standard...
Journal of Population, 10 (1) 2004 : 13-30, 2004
JOPO-10-1-2004-13
Artikel Jurnal Universitas Indonesia Library
Provides an overview of East and South-East Asia's international relations, security perspectives, foreign and defence policies, and regional non-traditional security issues, including globalization, transnational health challenges, population growth and the environmen...
London : Routledge, 2013
355.033 05 EAS
Buku Teks Universitas Indonesia Library
Tokyo: NRI Nomura Research Institute , 1999
336.5 EAS
Buku Teks Universitas Indonesia Library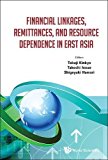 New Jersey: World Scientific, 2016
332.042 FIN
Buku Teks Universitas Indonesia Library
The Hague: Law International , 1996
332.6 FIN
Buku Teks Universitas Indonesia Library
Saiyid Asghar Abbas
Groningen: J.B.Wolters, 1955
330.950 ABB c
Buku Teks Universitas Indonesia Library New York: N.Y. Praeger , 1971
330.959 SOU
Buku Teks Universitas Indonesia Library
New York N.Y.: David Mckay Company, 1966
915.2 FOO (1)
Buku Teks Universitas Indonesia Library
Root, Hilton L
Hongkong: Asian Development Bank by Oxford University Press, 1996
320.2 ROO s
Buku Teks Universitas Indonesia Library