Ditemukan 14122 dokumen yang sesuai dengan query New York: Cambridge University Press, 2003
338.804 2 ECO
Buku Teks Universitas Indonesia Library
New York: Zed Books, 1998
332.1 TIG
Koleksi Publik Universitas Indonesia Library
Jakarta : LP3ES, 1999
306.095 MAR t
Buku Teks Universitas Indonesia Library Dany Kartiko, author
Masyarakat Ekonomi ASEAN MEA merupakan integrasi ekonomi untuk menciptakan ekonomi ASEAN yang stabil dan memiliki daya saing tinggi, yang didalamnya terdapat arus barang, jasa, investasi, dan aliran modal yang lebih bebas, pembangunan ekonomi yang adil, serta pengurangan kemiskinan dan kesenjangan sosial ekonomi. Thesis ini menganalisis kesiapan birokrasi Kabupaten Karawang dalam...
2017
T47899
UI - Tesis (Membership) Universitas Indonesia Library
Tokyo : Asiatic Society Of Japan Affiliated with the royal asiatic society
050 TAS 15 (1937)
Majalah, Jurnal, Buletin Universitas Indonesia Library
Goldstein, Morris, 1944-, author
Washington: Institute for International Economics,, 1998
332.095 GOL a
Buku Teks Universitas Indonesia Library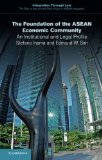 Inama, Stefano, author
SEAN has undertaken the complex task of creating a single economic entity for Southeast Asia by 2015 in the form of the ASEAN Economic Community (AEC), but without regulators or supranational institutions, its implementation has been an inconsistent process. Through comparisons with the EU and NAFTA, this book illustrates the...
Cambridge, UK: Cambridge University Press , 2015
337.159 INA f
Buku Teks Universitas Indonesia Library
New York: United Nations , 1993
330.950 42 UNI e (1)
Buku Teks Universitas Indonesia Library
Fallows, James
New York: Pantheon Books, 1994
950 FAL l
Buku Teks Universitas Indonesia Library
Singapore: EDIWB , 1998
332.1 GLO
Buku Teks Universitas Indonesia Library