Ditemukan 16228 dokumen yang sesuai dengan query
Singapore: McGraw-Hill , 2000
330.95 SUR
Buku Teks Universitas Indonesia Library
Jakarta: Indonesia Finance Today,
332 SUC
Majalah, Jurnal, Buletin Universitas Indonesia Library
Jong-Wha, Lee, author
"A collection of selected articles related to the Asian experience with two crises -- the Asian financial crisis in 1997-98 and the global financial crisis of 2007-08 -- written by Dr Jong-Wha Lee, former chief economist of the Asian Development Bank. These papers are grouped into three broad topics: Anatomy...
New Jersey : World Scientific, 2016
330.9 JON c
Buku Teks Universitas Indonesia Library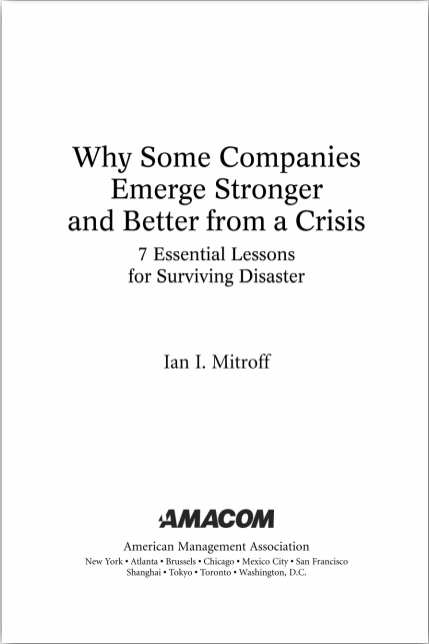 Mitroff, Ian I., author
There is a fundamental difference between business continuity planning and crisis management. Even a complete operational plan does little to prepare a company to come through a crisis with strength and confidence. According to Ian Mitroff, crises can (and will) now arise with unprecedented frequency, complexity, and destructive power, as...
New York: American Management Association, 2005
e20441727
eBooks Universitas Indonesia Library
New York: McGraw-Hill, 1980
320.960 3 AFR
Buku Teks Universitas Indonesia Library
Nagoya: Japan Research Institute for Internaional Relations, 1990
338.47 CAS
Buku Teks Universitas Indonesia Library
Jakarta: National Library of Indonesia & Indonesian Library Association, 1991
R 020.959 CON n
Buku Referensi Universitas Indonesia Library
Singapura: select book, 2000
320.959 pol
Buku Teks Universitas Indonesia Library
Montes, Manuel F., author
Singapore: Institute of Southeast Asian Studies, 1999
330.95 MON a
Buku Teks Universitas Indonesia Library
Pak, I-mun, author
Seoul: Seoul National University Press, 2012
950 PAK c
Buku Teks Universitas Indonesia Library