Ditemukan 13 dokumen yang sesuai dengan query Fakultas Teknik Universitas Indonesia, 1999
S39050
UI - Skripsi (Membership) Universitas Indonesia Library
Callahan, Evan
Washington: Microsoft Press, 1999
R 005.72 CAL p
Buku Referensi Universitas Indonesia Library
Callahan, Evan, author
Redmond, Wash: Microsoft Press, 1999
005CHAP001
Multimedia Universitas Indonesia Library
New Delhi: Prentice Hall of India, 1997
005.7 MBR t
Buku Teks Universitas Indonesia Library
Fakultas Teknik Universitas Indonesia, 1997
TA3360
UI - Tugas Akhir Universitas Indonesia Library
Prih Erwan Sujadi, author
ABSTRAK
Pengembangan pangkalan data di perpustakaan dimaksudkan agar temu kembali informasi menjadi lebih cepat, mudah dan sistematis. Berbagai kemudahan penelusuran dan peningkatan akses serta temu kembali informasi yang cepat yang ditawarkan oleh kemajuan teknologi informasi belum tentu memberikan penerimaan yang positif bagi pemakai. Semua fasilitas yang ditawarkan perlu dievaluasi berdasarkan persepsi...
1999
S15410
UI - Skripsi (Membership) Universitas Indonesia Library
Sahil Malik, author
Learn from Pro SharePoint migration on how to migrate your existing farm, infrastructure, upgrade approaches, code, branding, and impact of new features of SharePoint 2010 in a strategic way that results in smooth transition. Noted author Sahil Malik, with Srini Sistla, work together to provide detailed strategies and tools to...
New York: Springer, 2012
e20425426
eBooks Universitas Indonesia Library
Gotz, Ruven, author
Practical SharePoint 2010 information architecture is a guide and tool set for planning and documenting the scope, navigational taxonomy, document taxonomy, metadata, page layouts and workflows for a successful SharePoint 2010 project. This book, gives you practical approaches that have been proven in the field, explains how to use visual...
New York : Springer, 2012
e20425565
eBooks Universitas Indonesia Library
Wright, Steve, author
This book focusing exclusively on the essential guidance necessary for leveraging SharePoint 2010 within your organization's intranet, extranet or Internet environment for maximum business value. Effective governance allows your organization to promote the adoption of SharePoint's productivity-enhancing features while maintaining security and control over your organization's most vital information. This...
New York : Springer, 2012
e20425609
eBooks Universitas Indonesia Library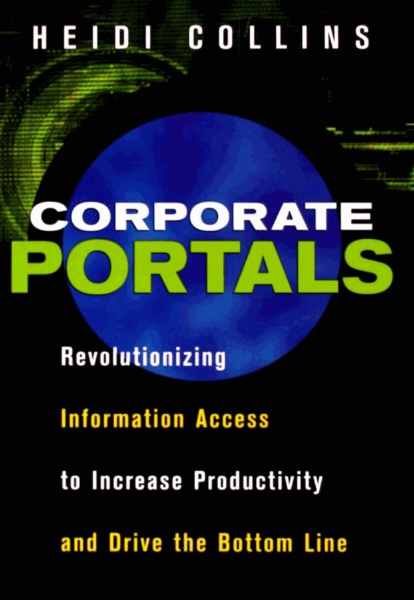 Collins, Heidi, author
"Customers of AOL don't realize it, but they're using a "portal" when they go online. A portal provides a "home"--a place to get news, stock prices, or whatever else interests you. A "corporate portal" is the same concept--but it's for the employees of a business. It provides them with a...
New York: [American Management Association, ], 2001
e20438020
eBooks Universitas Indonesia Library