Ditemukan 4 dokumen yang sesuai dengan query
Pittsburgh: ASM International, 1992
667.9 NAT t
Buku Teks Universitas Indonesia Library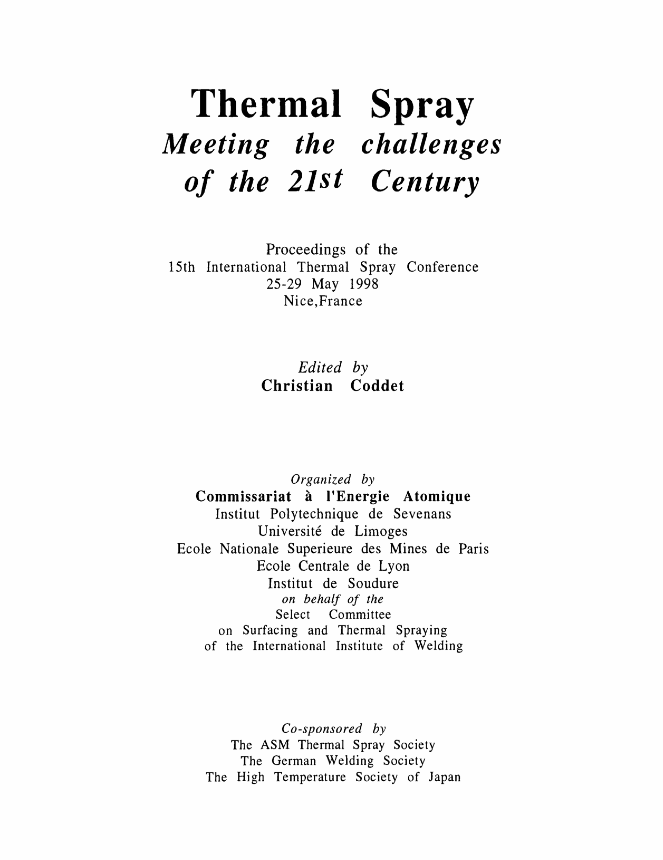 Proceedings, 15th International Thermal Spray Conference Nice, France, 25-29 May 1998. The 271 papers presented in this two-volume set cover the theory of thermal spray, the properties of coatings, the different spraying processes, their quality control, and their practical application. The conference was organised by the Commissariat a l'Energie Atomique...
Materials Park, OH: ASM International, 1998
e20442155
eBooks Universitas Indonesia Library
Proceedings of the 1st International Thermal Spray Conference, Montreal, Quebec, Canada, May 8-11, 2000. Conference assembled nearly 300 experts from academia, research, and industry from 35 countries to discuss the challenges and opportunities facing the thermal spray community now and into the 21st century...
Materials Park, Ohio: ASM International, 2000
e20442552
eBooks Universitas Indonesia Library
Contents : - Verfasserverzeichnis / List of authors - WSP-sprayed boron carbide coatings for fusion applications - Composite functional thermal sprayed coatings for the parabolic aerials - HVOF sprayed WC-Co-Cr as a generic coating type for replacement of hard chrome plating - HVOF facility qualification...
Dusseldorf : Verlag fur Schweissen und verwandte Verfahren DVS-Verlag, 2001
e20451736
eBooks Universitas Indonesia Library