Ditemukan 8 dokumen yang sesuai dengan query
Wilson, James A. (James Albert), 1929-, author
New York: Macmillan, 1972
591.1 WIL p
Buku Teks Universitas Indonesia Library
Global analysis of nonlinear dynamics collects chapters on recent developments in global analysis of non-linear dynamical systems with a particular emphasis on cell mapping methods developed by Professor C.S. Hsu of the University of California, Berkeley....
New York: Springer, 2012
e20418285
eBooks Universitas Indonesia Library
Islam, Md. Shahidul, author
This volume covers topics ranging from fundamental aspects of calcium signaling to its clinical implications, in a thoughtful and comprehensive way. It includes discussion of calcium signaling in different mammalian cells, oocytes, zebrafishes and even in plants...
Dordrecht: Springer, 2012
e20417505
eBooks Universitas Indonesia Library
Cornelius Lutz, editor
This book brings together experts from different fields, who used a broad spectrum of methods to investigate the physiological and cellular adaptation of alpine plants from the tree line to the upper limits. Some articles link alpine plant physiology with physiological adaptations observed in polar plants. Tolerance against often high light...
Wien: [, Springer], 2012
e20418008
eBooks Universitas Indonesia Library
This book primarily focuses on the pathophysiology of ER stress. It introduces the molecular bases of ER stress, the emerging relevance of the ER-mitochondria cross-talk, the signaling pathways engaged and cellular responses to ER stress, including the adaptive Unfolded Protein Response (UPR), autophagy as well as cell death. Next the...
Dordrecht: Springer, 2012
e20417396
eBooks Universitas Indonesia Library
Roszer, Tamas, author
This monograph focuses on the roles played by the subcellular NO-signaling microdomains in the prokaryote-, fungus-, plant- and animal cells and shows how NO behaves as an intracellular signal in distinct cellular environments. This monograph also provides a summary of our knowledge on how NO synthesis came through evolution to...
Dordrecht: [Springer, ], 2012
e20417565
eBooks Universitas Indonesia Library
Anton Hermann, editor
For this book the editors have recruited distinguished colleagues in the field to summarize and review important biological, pharmacological and medical functions and their implications, as well as methods for the detection of gasotransmitters...
Berlin: [, Springer], 2012
e20417689
eBooks Universitas Indonesia Library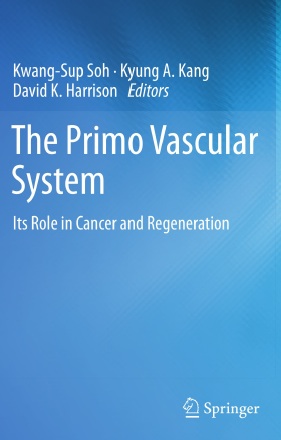 Kwang-Sup Soh, editor
Proceedings from the first International Symposium on Primo Vascular System 2010 (ISPS 2010) with special topics on cancer and regeneration was held in Jecheon, Korea during September 17-18, 2010. Includes coverage of new study results that have better revealed the functional aspects of PVS, including its roles in the areas...
New York: [, Springer], 2012
e20417681
eBooks Universitas Indonesia Library