Ditemukan 31 dokumen yang sesuai dengan query
Das, Apurba, author
Signal conditioning" is a comprehensive introduction to electronic signal processing. The book presents the mathematical basics including the implications of various transformed domain representations in signal synthesis and analysis in an understandable and lucid fashion and illustrates the theory through many applications and examples from communication systems....
Berlin: Springer, 2012
e20398808
eBooks Universitas Indonesia Library
Vandome, Nick, author
Unites States: Financial World, 2012
658.45 VAN e
Buku Teks Universitas Indonesia Library
Anderson, Edwin P., author
Buku yang berjudul "Audels radiomans guide" ini ditulis oleh Edwin P. Anderson. Buku ini merupakan sebuah buku panduan mengenai radio...
[place of publication not identified]: D.B. Taraporevala Sons, 1965
R 621.384 AND a
Buku Referensi Universitas Indonesia Library
In this book researchers from the European network of excellence NEWCOM++ (Network of Excellence on wireless COMmunication) examine wireless communication networks. They identify the medium-long term research problems and describe the tools to face them...
Milan: [, Springer], 2012
e20398921
eBooks Universitas Indonesia Library
Bai, Lin, author
Low complexity MIMO detection introduces the principle of MIMO systems and signal detection via MIMO channels. This book systematically introduces the symbol detection in MIMO systems. Includes the fundamental knowledge of MIMO detection and recent research outcomes for low complexity MIMO detection...
New York: [, Springer], 2012
e20410844
eBooks Universitas Indonesia Library
Brehmer, Johannes, author
This monograph develops a framework for modeling and solving utility maximization problems in nonconvex wireless systems. The first part develops a model for utility optimization in wireless systems. The model is general enough to encompass a wide array of system configurations and performance objectives. Based on the general model, a...
Berlin: [, Springer], 2012
e20418198
eBooks Universitas Indonesia Library
Jukka Suhonen, editor
Covers the low-power Wireless sensor network (WSN) services ranging from hardware platforms and communication protocols to network deployment, and sensor data collection and actuation. This book explains the implications of resource constraints and expected performance in terms of throughput, reliability and latency....
New York: [, Springer], 2012
e20418224
eBooks Universitas Indonesia Library
Weerawardane, Thushara, author
Thushara Weerawardane introduces new transport technologies and features for High Speed Packet Access (HSPA) and Long-Term Evolution (LTE) networks. Using advanced scientific methods, he proposes new adaptive flow control and enhanced congestion control algorithms, then defends them with highly-developed analytical models derived from Markov chains. For faster analysis, compared to...
Berlin: [, Springer-Verlag], 2012
e20398634
eBooks Universitas Indonesia Library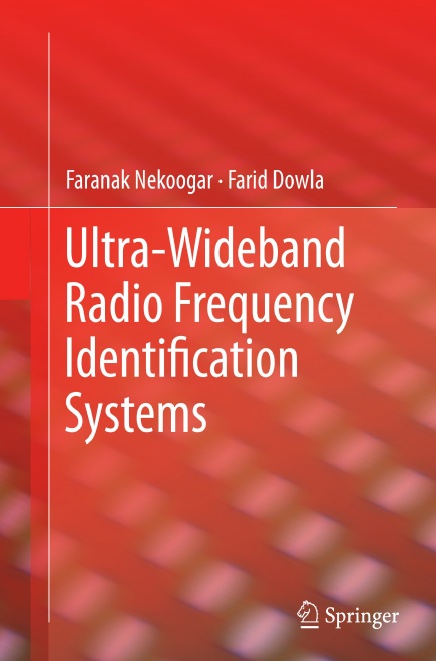 Nekoogar, Faranak, author
Ultra-wideband radio frequency identification systems describes the essentials of radio frequency identification systems as well as their target markets. The authors provide a study of commercially available RFID systems and characterizes their performance in terms of read range and reliability in the presence of conductive and dielectric materials. The capabilities and...
New York: Springer, 2012
e20398996
eBooks Universitas Indonesia Library
This volume contains revised and extended research articles written by prominent researchers participating in the ICF4C 2011 conference. 2011 International Conference on Future Communication, Computing, Control and Management (ICF4C 2011) has been held on December 16-17, 2011, Phuket, Thailand. Topics covered include intelligent computing, network management, wireless networks, telecommunication, power...
Berlin: [, Springer], 2012
e20399351
eBooks Universitas Indonesia Library