Ditemukan 76 dokumen yang sesuai dengan query
Emotional Intelligence (EI) has become a topic of vast and growing interest worldwide and is concerned with the ways in which we perceive, identify, understand, and manage emotions. It is an aspect of individual difference that can impact a number of important outcomes throughout a person's lifespan. Yet, until now...
Hoboken, NJ: Wiley, 2018
152.4 INT
Buku Teks Universitas Indonesia Library
McDermott, Lynda Caryl, author
Research continues to show that strong emotional intelligence is critical for anyone hoping become a top-performer in their workplace. Emotional intelligence provides us with a better understanding of ourselves and those around us. This Infoline is designed for anyone looking to understand the basics of emotional intelligence with an eye...
Alexandria, Virginia: American Society for Training and Development, 2008
e20441337
eBooks Universitas Indonesia Library
Lynn, Adele B., author
Issues like lack of trust and commitment, unresolved conflicts, and the inability of individuals to understand how their actions impact others often stop the most promising teams from delivering great results. This simple, easy-to-use book gives busy managers activities they can use to help their employees improve their levels of...
New York: American Management Association, 2007
e20443580
eBooks Universitas Indonesia Library
Luthfia Osi Dewina, author
ABSTRAK
The purpose of this study is to capture the importance of emotional intelligence for internal auditors in the public sector in Indonesia, considering the advantages of emotional intelligence at the workplace. The research utilises descriptive survey research as a basis for analysis and found that emotional intelligence was important for...
Jakarta: Kementerian PPN/Bappenas, 2018
330 BAP 1:1 (2018)
Artikel Jurnal Universitas Indonesia Library Murniati, author
ABSTRACT
OCB is a behavior free of individual, not directly or explicity recognized in a formal award system and in promoting the efficient and affective functioning of the organizationing. Emotional Inteliigence is the ability to motivate yourself and try to face the frustation, impulse control and not exaggerate the pleassure, set...
Jakarta: Program Studi Kajian Timur Tengah dan Islam (PSKTTI), 2017
300 MEIS 4:2 (2017)
Artikel Jurnal Universitas Indonesia Library
Lynn, Adele B., author
We've all heard of ""IQ""...but what's ""EQ?"" It's ""Emotional Quotient"" (aka Emotional Intelligence), and experts say that EQ is a greater predictor of success at work than IQ. Companies are increasingly looking for ways to motivate and develop their employees' emotional intelligence. This book presents trainers and coaches with 50...
New York: [American Management Association, ], 2002
e20438299
eBooks Universitas Indonesia Library
Lynn, Adele B., author
Emotional intelligence is a hot topic. Proven as a leading driver of success, it's also a hot commodity. The EQ Difference offers practical tips and suggestions for developing emotional intelligence and reaping its benefits in any work environment...
New York: [American Management Association, ], 2005
e20437849
eBooks Universitas Indonesia Library
F.X. Harjoyo, author
This research is aimed at knowing the relationship between compensation and emotional intelligence with officer organizational commitment of the Supreme of Audit Board (Badan Pemeriksa Keuangan) Jakarta. Compensations is remuneration that giving by employee for their jobs that done include: salary, incentives, and allowance. Emotional Intelligence is capability to feel,...
Depok: Universitas Indonesia, 2009
T26359
UI - Tesis (Open) Universitas Indonesia Library Goleman, Daniel, author
New York: Bantam Books, 2006
152.4 GOL e
Buku Teks Universitas Indonesia Library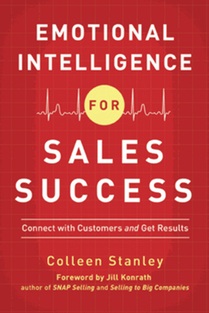 Stanley, Colleen, author
Even skilled sales people buckle in tough selling situations - getting defensive with prospects who challenge them on price or too quickly caving to discount pressure. Those are examples the fight-or-flight response - something sales people learn to avoid when they build their emotional intelligence. Studies have shown that emotional...
New York: [American Management Association, ], 2013
e20436850
eBooks Universitas Indonesia Library