Ditemukan 8 dokumen yang sesuai dengan query
Bradley, Stephen P., author
Reading, Mass. : Addison-Wesley, 1977
519.7 BRA a
Buku Teks Universitas Indonesia Library
ABSTRAK
Minimum-time and smooth-steering control algorithms are developed from bobsled optimal control. Numerical solutions are obtained both for one-curve optimal control and whole-course piecewise optimal control with application to realistic three-dimensional track surface shapes. Specific results are calculated for the Lillehammer Olympic Track...
New York : Plenum Publishing Corporation , 2018
510 JOTA
Majalah, Jurnal, Buletin Universitas Indonesia Library
Schaffler, Stefan, author
This self-contained monograph presents a new stochastic approach to global optimization problems arising in a variety of disciplines including mathematics, operations research, engineering, and economics. The volume deals with constrained and unconstrained problems and puts a special emphasis on large scale problems. It also introduces a new unified concept for...
New York: [Springer, ], 2012
e20419659
eBooks Universitas Indonesia Library
Josef Kallrath, editor
This book, deals with the aspects of modeling and solving real-world optimization problems in a unique combination. It treats systematically the major algebraic modeling languages (AMLs) and modeling systems (AMLs) used to solve mathematical optimization problems. AMLs helped significantly to increase the usage of mathematical optimization in industry...
Berlin: [Springer-Verlag , ], 2012
e20418981
eBooks Universitas Indonesia Library
Thomopoulos, Nick T., author
This book provides an introduction to basic queuing systems, such as M/M/1 and its variants, as well as newer concepts like systems with priorities, networks of queues, and general service policies. Numerical examples are presented to guide readers into thinking about practical real-world applications, and students and researchers will...
New York: [Springer, ], 2012
e20419570
eBooks Universitas Indonesia Library
Bangert, Patrick, author
This book presents these fields in interdependence as a conversation between theoretical aspects of mathematics and computer science and the mathematical field of optimization theory at a practical level. The 19 case studies that were conducted by the author in real enterprises in cooperation and co-authorship with some of the...
Berlin: [Springer, ], 2012
e20419973
eBooks Universitas Indonesia Library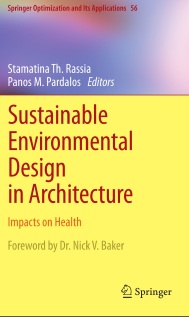 This book presents several theories and techniques that can be used to improve how buildings are engineered and designed in order to utilize more sustainable construction methods while promoting the health of the building's occupants. Contributions to the study of environmental design have come from a diversity of fields including applied...
New York: Springer, 2012
e20419055
eBooks Universitas Indonesia Library
This book presents recent developments and results found by participants of the Third International Conference on the Dynamics of Information Systems, which took place at the University of Florida, Gainesville FL, USA on February 16-18, 2011. The purpose of this conference was to bring together scientists and engineers from industry,...
New York: Springer, 2012
e20419661
eBooks Universitas Indonesia Library