Ditemukan 201 dokumen yang sesuai dengan query Afifi Rahmah Muluk, author
Topik atau judul dari Proyek Mahasiswa ini adalah Rekayasa Ulang Proses Bisnis Kegiatan Akademik Program Studi S1 Fakultas Ilmu Komputer UI. Fasilkom UI, sebagai salah satu bagian dari institusi pendidikan tinggi di Indonesia, memiliki langkah-langkah kerja atau proses bisnis yang dibuat untuk mencapai apa yang menjadi visi, misi, dan tujuannya....
Depok: Fakultas Ilmu Komputer Universitas Indonesia, 2004
S-Pdf
UI - Skripsi (Membership) Universitas Indonesia Library
New York: The Institute of Electrical and Electronics Engineers , 1975
004 NAT s
Buku Teks Universitas Indonesia Library

Sommerville, Ian, author
For courses in computer science and software engineering The Fundamental Practice of Software Engineering Software Engineering introduces readers to the overwhelmingly important subject of software programming and development. In the past few years, computer systems have come to dominate not just our technological growth, but the foundations of our world's...
Boston: Pearson, 2016
005.1 SOM s
Buku Teks Universitas Indonesia Library
Singapore: Addison-Wesley, 1989
005.109 52 JAP
Buku Teks Universitas Indonesia Library
This book constitutes the thoroughly refereed post-conference proceedings of the Fourth International Conference on Fundamentals of Software Engineering, FSEN 2011, held in Tehran, Iran, in April 2011. The 19 revised full papers and 5 revised short papers presented together with 3 poster presentations were carefully reviewed and selected from 64...
Berlin: Springer-Verlag, 2012
e20409553
eBooks Universitas Indonesia Library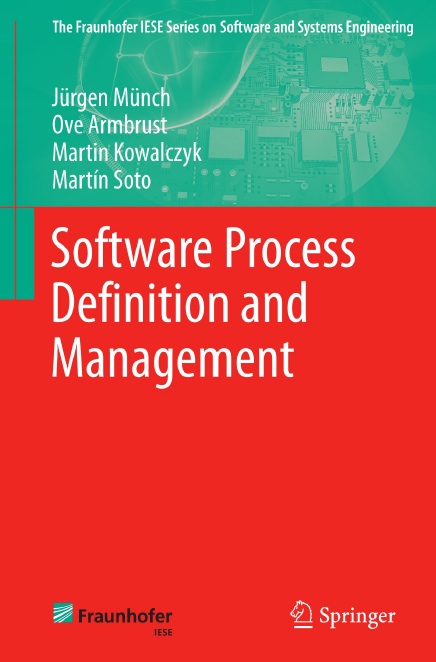 Jurgen Munch, author
Münch and his co-authors aim at providing knowledge that enables readers to develop useful process models that are suitable for their own purposes. They start with the basic concepts. Subsequently, existing representative process models are introduced, followed by a description of how to create individual models and the necessary means...
Berlin: Springer-Verlag, 2012
e20407805
eBooks Universitas Indonesia Library
Gutbrod, Roger, author
[The complexity of software is continuously growing as a result of today's interconnected business processes. Governance of architecture and technology strategy helps to ensure coherence of software and avoid excessive complexity. At the same time software development needs room for creativity and empowerment to provide solutions to business problems of...
Berlin : [Springer, Springer], 2012
e20397548
eBooks Universitas Indonesia Library
Computer Science and Convergence is proceedings of the 3rd FTRA International Conference on Computer Science and its Applications (CSA-11) and The 2011 FTRA World Convergence Conference (FTRA WCC 2011). The topics of CSA and WCC cover the current hot topics satisfying the world-wide ever-changing needs. CSA-11 will be the most...
Dordrecht, Netherlands: [Springer, ], 2012
e20398139
eBooks Universitas Indonesia Library
The series contains monographs, lecture notes and edited volumes in computational intelligence spanning the areas of neural networks, connectionist systems, genetic algorithms, evolutionary computation, artificial intelligence, cellular automata, self-organizing systems, soft computing, fuzzy systems, and hybrid intelligent systems....
Berlin: [, Springer], 2012
e20398861
eBooks Universitas Indonesia Library
Jane Cleland-Huang, editor
Software and systems traceability provides a comprehensive description of the practices and theories of software traceability across all phases of the software development lifecycle....
London: Springer, 2012
e20407432
eBooks Universitas Indonesia Library