Ditemukan 17 dokumen yang sesuai dengan query
Eckertova, Ludmila, author
New York: Plenum Press, 1986
530.41 ECK p
Buku Teks Universitas Indonesia Library
Stuart, R.V., author
Orlando: Academic Press, 1983
621.55 STU v
Buku Teks Universitas Indonesia Library
Bhushan, Bharat, author
This new edition presents an overview of biomimetics and biologically inspired structured surfaces. It deals with various examples of biomimetics which include surfaces with roughness-induced superomniphobicity, self-cleaning, antifouling, and controlled adhesion. The focus in the book is on the lotus effect, salvinia effect, rose petal effect, oleophobic/philic surfaces, shark skin...
Berlin : [Springer, ], 2012
e20425007
eBooks Universitas Indonesia Library Fourier transform infrared (FTIR) microspectrometry was used to characterize thin conducting films of poly[2 methoxy-5(2-ethylhexylox)-1,4] phenyelenevinylene (MEH-PPV).......
Artikel Jurnal Universitas Indonesia Library
Anuar Kassim, author
Lead selenide thin films were prepared by chemical bath deposition method using aqueous of lead nitrate, sodium selenate and sodium tartrate. The influence of bath temperature towards the properties of the thin films was studied. The films were characterized by X-ray diffraction, scanning electron microscopy and UV-Vis spectrophotometer. The XRD...
Direktorat Riset dan Pengabdian Masyarakat UI;Universiti Putra Malaysia. Faculty of Sciences;Universiti Putra Malaysia. Faculty of Sciences, 2011
J-Pdf
Artikel Jurnal Universitas Indonesia Library
Jansen, A.P.J., author
This book has two objectives. First, it is a primer on the kMC method (predominantly using the lattice-gas model) and thus much of the book will also be useful for applications other than to surface reactions. Second, it is intended to teach the reader what can be learned from kMC...
Berlin : [Springer, ], 2012
e20425140
eBooks Universitas Indonesia Library
Tomi Laurila, author
Interfaces between dissimilar materials are met everywhere in microelectronics and microsystems. In order to ensure faultless operation of these highly sophisticated structures, it is mandatory to have fundamental understanding of materials and their interactions in the system. In this revised method four fundamental disciplines are combined, (i) thermodynamics of...
London : Springer, 2012
e20425845
eBooks Universitas Indonesia Library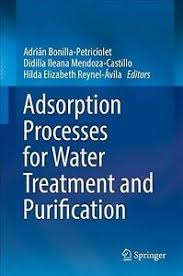 This book provides researchers and graduate students with an overview of the latest developments in and applications of adsorption processes for water treatment and purification. In particular, it covers current topics in connection with the modeling and design of adsorption processes, and the synthesis and application of cost-effective adsorbents for...
New York: Springer, 2017
333.7 ADS
Buku Teks Universitas Indonesia Library
Cuk Imawan, author
ABSTRAK
Pada eksperimen ini telah dibuat film TiN dengan metode sputering magnetron reaktif pada temperatur substrat 325°C, 230°C , dan 125°C. Hasil pengukuran XRD menunjukkan bahwa film-film dengan fasa δ-TiN dapat diperoleh dengan proses deposisi pada daerah laju alir nitrogen yang cukup lebar (15,1 ml/min - 16,6 ml/min), tanpa dipengaruhi oleh...
1995
T-Pdf
UI - Tesis (Membership) Universitas Indonesia Library
Nyoman Sueta, author
Dalam penelitian ini telah dilakukan pembuatan material ferroelektrik Ba0.5Sr0.5TiO3 yang didoping dengan Mg asetat (BSMT) dengan metode Chemical Solution Deposition (CSD) dengan teknik spin coating pada kecepatan putar 3000 rpm selama 30 detik . Proses annealing dilakukan pada temperatur 800oC selama 3 jam. Variabel penelitian adalah persentase doping (0%, 1%,...
Depok: Fakultas Matematika dan Ilmu Pengetahuan Alam Universitas Indonesia, 2008
T21559
UI - Tesis (Open) Universitas Indonesia Library